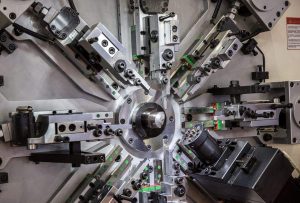 Brief Introduction
Located in Ningbo,Zhejing Province, China, we are professional manufacturer in China for Metal spring and wire Fabrication items,such as Torsion Springs,Extension Springs,Compression Springs,Die Springs,Circlips,Wire Forming.With a number of professional design and engineering technicians,all kinds of machinery, equipment and testing equipment, we are aimed to provide customer competitive springs with high quality.
Our factory adopts advanced CNC computer spring automatic molding machine and computer testing equipment, the existing GSM – 720, (8 – BCX BAMATEC), and (KHM) CNC – 10. A, Japan (MEC) TM – 8, punching machine, automatic lathe, dynamometer, high temperature tempering furnace, projector, fatigue testing machine, etc. Can produce 0.15mm-30.0mm wire diameter of spring's main products are: springs, torsion springs, extension spring, compression spring antenna, battery springs, abnormity springs, coil spring,Disc spring,Die spring,Conical spring,Special shaped spring,rotary drill pipe spring,engineering machinery springs,elevator springs and other special spring, etc.
Products applicable to: electronics, communications equipment, household appliances, digital products, toys, watches and clocks, gifts, accessories, stationery, beauty salon equipment. Our company has advanced equipment and exquisite technology for future research and development, design, production for the greater advantage, to feedback the customer with the best products.
We have passed ISO9001 quality management system.With Many years of manufacturing experience, our strong R&D team is always developing the best spring to meet all customers' requests.Enjoying a great commercial reputation in the international market, we are now looking forward to even greater cooperation with overseas customers based on mutual benefits.
Spring Materials
Stainless Steel: SUS 301/302/304/420/430/631, with or w/o passivation.
Aluminium: grade 1100/5052/6061/6063/7076 sheets, bars extrusions; finished in anodized, bard anodized chromate conversion coating.
Copper: phosphor bronze, finished in anodize, bard anodize, nickel plated, and blacked plated.
Alloy: nickel & silver.
Ferrous Metals: different stock sizes of CRS, pre-coated or post-plated, wet spay painted or powder coating.
Other Surface Finishing: electroplating in different colors, hair-lining, high gloss edge cutting, CD lathing, radiation, diamond cutting, polishing, radial spot welding, laser marking, fiber laser etching, color spraying, silk screen printing, pad printing, membrane protection coating, and UV coating.
All materials we used have passed the evaluation of RoHS Certification, and respective reports and material certification are available.
Management
Through many years of practice, we have executed the best-of-breed full-process operation and management system, and have been retaining balanced development between corporation scale, operation benefit and capability construction. We keep upgrading our management system in accordance with the best practice, innovation and research during the development of business. For the sake of accomplishing our customers' requirements, we constantly focus on the industrial benchmark and better the daily work to achieve continual perfection for organization and manufacturing process.