Wire Forming: Your Reliable Metal Wires Manufacturer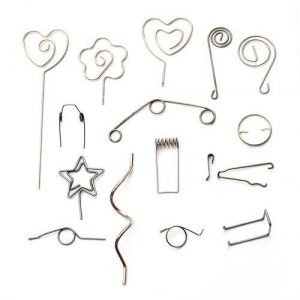 As a wire fabrication and spring manufacturer, we offer Custom wire Forming services for many years and can make all kind of wire forms parts for oversea customers.
Metals have different tensile strengths and ductility, which affect the ease of forming and the final shape of the wire. For instance, softer metals like copper and aluminum are easier to form than harder metals like steel. Therefore, understanding the properties of metal wires is crucial to determine the right process and equipment for forming.
Metal Wires can be done using various techniques, such as bending, cutting, piercing, flattening, and coiling. Each technique requires specific tools and equipment, such as CNC wire bending, stamping machine, and coil formers. The process may also involve the use of heat and other materials to achieve the desired shape and finish.
Custom Wire Forming Ability
Wire Diameter :From 0.1~20mm
Material:Titanium, Carbon steel, Silver, Nylon, Cr5, Iron, Nickel plated carbon line, Nickel plated steel wire harp, Flat wire, Square wire, SUS304/316/302 ,Spring steel,55CrSi, 60Si2Mn alloy steel, inconel X750 steel, music wire, phosphorus copper wireetc.
Surface Treatment:Zn-plating, Ni-plating, Cr-plating, Tin-plating, copper-plating, the wreath oxygen resin spraying, the heat disposing, hot-dip galvanizing, black oxide coating, painting, powdering, color zinc-plated, blue black zinc-plated, rust preventive oil, titanium alloy galvanized, silver plating, plastic, electroplating, anodizing etc.
Applications: Wire forming is commonly used in various industries, such as automotive, aerospace, medical, and electrical. The formed wires are used in a wide range of applications, such as springs, fasteners, clips, brackets, and wire meshes. The versatility of wire forming makes it an essential component of the manufacturing industry.
Packaging:Inner plastic bag, outer carton box, and we can also pack products according to your requirements.
Main Products:Compression spring, Extension spring, Torsion spring ,Coil spring,leaf spring,stamping part,lathe part,shaft,hook, etc.
Producing Equipment:
Spring machine Jinju & 502S(Spring coiling machine, Pressure spring machine, CNC computer spring omnipotent machine, grinding machine,automatic spring machine etc.). Other machines including Screw machine Hexing/SX & H series, Shaft machine Liqiang ,Auto lathes Libo & XB ,CNC machine SHENGYU & SYX42,Inclinable press machine WORLD & J23-80/ J23-65A/J23-16,Milling machine COYO/ALSGS & CY-L-90,Continuous hot wind tempering furnace Sanli & RJC210 ,Tapping machine Dongrong/EF,Grinder machine DA SHUANG YANG & M230-2, Lathe machine C6233 ,Wire cutting machine Deren & DK7740 etc.
Testing Equipment:
Projecting Apparatus, Salt Spray Test, Durometer, and Coating Thickness Tester
Workforce
A group of experienced production technician, sophisticated engineer and dedicated QC.
Main Markets
North America, South America, Eastern Europe ,West Europe , North Europe, South Europe, South Asia, Africa African
Our Wire Forming Services
Wire forming is both an art and a science, which involves the transformation of metal wires into different shapes and sizes for various applications. The science behind wire forming lies in understanding the physical properties of metals and their behavior when subjected to different conditions. The art of wire forming involves the manipulation of metal wires to create visually appealing designs that are both functional and decorative.
It has a range of uses, from industrial to artistic. It is a versatile process that adds value to various industries, such as jewelry making, automotive, aerospace, medical, and electrical. Wire forming also allows for customization and personalization, making it a popular choice for gift-giving and special occasions.
How to place order
Customer send us drawing or sample
We carry through project assessment
We send you a design and Quotaiton
Customer check our quotation and confirm with us
We make the sample and send by air
Customer check the sample and then place an order
We start to make the product after deposit
When the goods is done, we will send inspection report to customer
Customer pay us the balance before delivery
Custom-Made Springs