Torsion Spring Stress Relief: Techniques and Benefits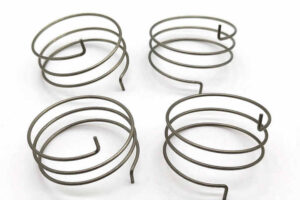 Torsion springs play a crucial role in various mechanical applications, providing rotational force and acting as torsional energy storage devices. However, during the manufacturing process, these springs may accumulate internal stress, affecting their performance and longevity. To ensure optimal functionality, stress relief techniques are employed to minimize residual stress and enhance the overall durability of torsion springs. This article delves into the importance of stress relief for torsion springs, explores various stress relief techniques, and highlights the benefits they offer.
The Significance of Stress Relief:
During the manufacturing of torsion springs, several processes such as coiling, bending, and forming introduce internal stresses. These residual stresses can be detrimental to the spring's performance, leading to issues such as premature fatigue, reduced load-bearing capacity, and compromised dimensional stability. By employing stress relief techniques, manufacturers can enhance the mechanical properties and extend the lifespan of torsion springs.
Stress Relief Techniques for Torsion Springs:
1. Heat Treatment:
Heat treatment is a widely used stress relief technique that involves subjecting the torsion springs to controlled heating and subsequent cooling processes. This helps to relieve stress by redistributing the internal molecular structure, reducing residual strains, and optimizing material properties. Common heat treatment methods include annealing, normalizing, and tempering, which are selected based on the specific requirements of the spring.
2. Shot Peening:
Shot peening is a mechanical stress relief technique that involves bombarding the surface of the torsion spring with high-velocity steel shots or particles. The impacts induce compressive stresses on the surface, counteracting the tensile stresses generated during the manufacturing process. Shot peening improves the fatigue life, enhances resistance to stress corrosion cracking, and promotes dimensional stability of torsion springs.
3. Vibratory Stress Relief:
Vibratory stress relief employs vibration energy to reduce the residual stresses within torsion springs. This technique involves subjecting the springs to controlled vibrations at specific frequencies, resulting in micro-plasticity and a relaxation of the internal stresses. Vibratory stress relief improves the stability, ductility, and fatigue resistance of the springs while maintaining their dimensional accuracy.
Benefits of Stress Relief for Torsion Springs:
1. Improved Fatigue Life:
By effectively relieving internal stresses, stress relief techniques significantly enhance the fatigue life of torsion springs. This results in improved performance, reduced probability of failure, and increased reliability, especially in high-cycle applications.
2. Enhanced Load-Bearing Capacity:
Stress relief techniques help optimize the material properties of torsion springs, enhancing their load-bearing capacity. This enables the springs to withstand higher forces and torque, maintaining their functionality even under demanding operating conditions.
3. Increased Dimensional Stability:
Residual stresses can cause dimensional variations and spring deformation. Through stress relief, these issues are minimized, ensuring the torsion springs maintain their original shape, dimensional accuracy, and consistency over time.
4. Minimized Failure Risks:
By reducing residual stresses, stress relief techniques mitigate the risk of premature fatigue failure, stress corrosion cracking, and other associated issues. This enhances the overall reliability and safety of torsion springs, reducing maintenance and replacement costs.
Conclusion:
Stress relief techniques play a vital role in enhancing the performance and longevity of torsion springs. By employing methods such as heat treatment, shot peening, and vibratory stress relief, manufacturers can effectively minimize residual stresses, improving fatigue life, load-bearing capacity, dimensional stability, and reducing failure risks. Incorporating stress relief techniques in the manufacturing process ensures that torsion springs meet the stringent requirements of various mechanical applications, providing reliable and efficient operation over their lifespan.