Understanding Torsion Spring End Types: A Comprehensive Guide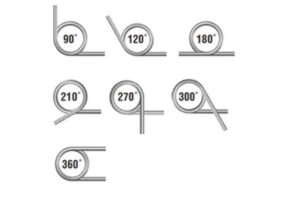 Torsion springs play a crucial role in various industries, providing rotational force and restoring energy in mechanical systems. While the overall design and specifications of torsion springs are essential, the choice of end type significantly impacts their functionality and performance. In this article, we will delve into the different torsion spring end types, their characteristics, and their applications, helping you make informed decisions for your specific needs.
1. Straight Offset Ends:
Straight offset ends are one of the most commonly used types in torsion springs. They feature a straight section at the ends, perpendicular to the spring's body. This end type provides a reliable and straightforward method for attaching the spring to the desired components. Straight offset ends are suitable for applications where space is limited or when a predictable angular deflection is required.
2. Torsion spring end types with Hinged Ends:
Hinged ends consist of short tangents that are bent outward at a 90-degree angle, creating a hinge-like effect. This design facilitates easy attachment and allows the spring to rotate freely without binding. Hinged ends are often utilized in applications where the torsion spring needs to rotate along its axis, such as garage doors, clothespins, or clip fasteners.
3. Short Hook Ends:
Short hook ends feature small hooks at both ends of the torsion spring. These hooks provide a quick and convenient way to connect the spring to other components or mounting points. Short hook ends are widely used in applications where rapid assembly or disassembly is necessary, such as toys, household appliances, or automotive mechanisms.
4. Long Hook Ends:
Long hook are similar to short hook ends but have longer and more pronounced hooks. This end type offers enhanced gripping capabilities, ensuring secure attachment and reducing the likelihood of the spring slipping or dislodging during operation. Long hook ends are commonly found in heavier-duty applications, including industrial machinery, agricultural equipment, and mechanical devices subject to high torque loads.
5. Threaded Ends:
Threaded ends feature threaded sections at each end of the torsion spring. This design enables easy attachment by screwing the spring into place, providing a reliable and adjustable connection. Threaded ends are ideal for applications that require precise tension adjustments or where a secure grip is crucial, such as automotive suspensions, trampolines, or electrical switches.
6. Custom End Types:
In addition to the standard end types mentioned above, manufacturers can also create custom end types to meet specific requirements. Custom end types are tailored to the unique needs of an application, considering factors like space limitations, attachment methods, or special functionalities. Working closely with torsion spring manufacturers can help you design custom end types that optimize performance for your specific application.
Torsion spring end types Conclusion:
Choosing the right torsion spring end type is critical to ensure optimal functionality, performance, and longevity in various mechanical systems. Whether you require straight offset ends, hinged ends, short or long hook ends, threaded ends, or even custom end types, understanding their characteristics and applications is essential. Collaborating with experienced torsion spring manufacturers can provide invaluable guidance and expertise to help you select the most suitable end types for your specific needs. By making informed choices, you can maximize the efficiency and reliability of your torsion spring applications.