Torsion Spring Material Selection: Choosing the Right Material for Optimal Performance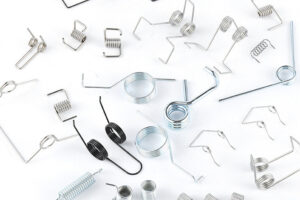 Torsion springs are vital components in a wide range of mechanical applications, providing rotational force and flexibility. Selecting the appropriate material for torsion springs is crucial to ensure optimal performance, longevity, and reliability. This article aims to explore the factors involved in torsion spring material selection, highlighting key considerations and common materials used in the industry.
1. Importance of Material Selection for Torsion Springs:
The material chosen for torsion springs directly impacts their mechanical properties, durability, and resistance to fatigue. It is essential to consider the following factors during material selection:
a. Strength and Elasticity: The material must possess sufficient strength and elasticity to endure repeated cycles without permanent deformation or failure. It should be capable of withstanding the applied torque and returning to its original shape upon release.
b. Fatigue Resistance: Torsion springs undergo cyclic loading, making fatigue resistance a critical characteristic. The material's ability to withstand countless cycles without developing cracks or weakening is vital to ensure long-lasting performance.
c. Corrosion Resistance: In certain applications, exposure to harsh environments or corrosive substances is inevitable. Choosing a material with excellent corrosion resistance helps prevent degradation and ensures the spring's functionality over an extended period.
d. Temperature Sensitivity: Some applications involve exposure to high temperatures or extreme temperature fluctuations. The chosen material should exhibit minimal variations in performance and mechanical properties under these conditions.
2. Commonly Used Materials for Torsion Springs:
Various materials exhibit suitable properties for torsion spring applications. Understanding the characteristics of each material is crucial for informed decision-making. Here are some commonly used materials:
a. High Carbon Steel: Known for its high strength and toughness, high carbon steel is widely used in torsion springs. Its excellent fatigue resistance and ability to withstand high torque make it a popular choice. However, it is susceptible to corrosion and may require surface treatments or coatings for enhanced durability.
b. Stainless Steel: Stainless steel alloys offer exceptional corrosion resistance, making them ideal for applications in corrosive environments or where hygiene is essential. These alloys possess good strength and can withstand high temperatures, making them versatile for various torsion spring applications.
c. Alloy Steels: Alloy steels provide a balance between strength, toughness, and fatigue resistance. These materials are often used when additional properties, such as wear resistance or heat resistance, are required. Alloy steels can be tailored based on specific application requirements.
d. Phosphor Bronze: Phosphor bronze offers excellent corrosion resistance, making it suitable for applications exposed to moisture or chemicals. Additionally, it provides good fatigue resistance and is easily formed into intricate spring shapes.
e. Nickel-based Alloys: Nickel-based alloys, such as Inconel, exhibit superior corrosion resistance and high-temperature performance. These alloys are ideal for torsion springs operating in extreme conditions, such as aerospace or industrial applications.
3. Considerations for Material Selection:
When selecting the material for torsion springs, manufacturers need to consider the following factors:
a. Application Requirements: Understand the specific requirements of the application, including torque levels, number of cycles, environmental conditions, and temperature range. This knowledge helps in matching the material's properties with the demands of the application.
b. Cost Considerations: Balancing performance requirements with cost-effectiveness is crucial. While certain high-performance alloys may offer exceptional properties, they could significantly increase manufacturing costs. Evaluate the optimal trade-off between material performance and budget constraints.
c. Production Feasibility: Consider the material's availability, formability, and ease of manufacturing. Some materials may require specialized production techniques, impacting production time and costs.
d. Testing and Validation: Validate material choices through rigorous testing, ensuring they meet the desired specifications and application requirements. Conducting material testing and analyzing performance under simulated operating conditions provides confidence in material selection.
Conclusion:
Selecting the right material for torsion springs is a critical decision that directly affects their performance, durability, and reliability. By considering factors such as strength, elasticity, fatigue resistance, corrosion resistance, and temperature sensitivity, manufacturers can make informed material selections. Materials like high carbon steel, stainless steel, alloy steels, phosphor bronze, and nickel-based alloys offer a range of properties to meet diverse application requirements. By carefully evaluating these considerations and conducting thorough testing and validation, manufacturers can ensure the optimal performance and longevity of torsion springs in various mechanical applications.