Extension Springs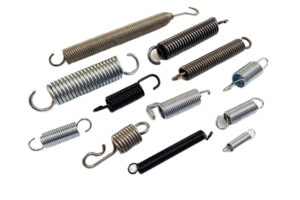 At our company, we take pride in being a reputable and professional manufacturer of extension springs. With our expertise, experience, and commitment to quality, we have established ourselves as a trusted provider of high-performance extension springs for a wide range of industries.
The Extension springs (also called a pull spring) is a spiral spring that bears the axial tension. The tensile springs are usually made of circular cross section materials. In the absence of load, there is no gap between the ring and the ring of a stretch spring.
Extension springs is a spiral spring under axial tension, the hook is in the form of long side hook spring, spring hook, hook hook at British spring, spring, spring spring hook beak semicircular hook, and so on, "hook" is used to ensure the tension tension of the spring source, generally with circular cross section material made of spring steel, without load when the tension between the rings are generally tight and there is no gap, the tension spring back after the (pull), to control the mechanical movement, energy storage, measurement of the size, stretching the spring most usually in a certain degree of tension, even in the absence of any load under the condition of. This initial tension determines the tightness of a stretch spring coiling in the absence of any load.