Chrome Plated Torsion Springs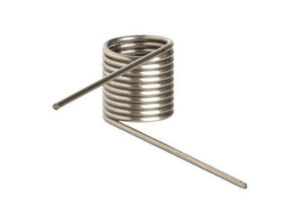 The Chrome Plated Torsion Springs is made by steel or stainless steel. The surface are chrome plated.
A torsion spring is designed to be twisted, unlike a compression spring which is designed to be compressed and an extension spring which is designed to be extended. Torsion coil springs are often used in 'pop-up' operations such as are used in digital cameras, CD players and other similar items.
Our products mainly contain torsion spring,Compression spring, Extension Spring,wire Forming and so on.
Custom-Made Torsion Spring
Product Name

Torsion Spring

0.01 to 80mm

coil/spiral/conical spring ;compression/extension/tension/torsion spring

Stainless steel, carbon steel, spring steel, alloy spring steel, refractory steel, brass, and bronze (most of them are imported
from Korea, Germany and Japan)

Zinc-plated, nickel-plated, chrome-plated, silver-plated, gold-plated, imitation gold-plated, etc.

Inner-Plastic Bag; Outer -Standard Carton Box.

All kinds of cars, machinery, home appliance, electronic products, electric appliance, stationery, computers, power switches,
miniature switches, architecture, commodity and A/V equipment, hardware and plastic molds, sports equipment, and so on.

Conducted by ISO/TS16949:2002 and ISO14001:2004 system.

Advanced CNC spring machinery; Advanced grinding and shot peening machinery; Precise tensile strength testers, compression
testers, endurance testers, and magnetic powder flaw detectors;

Auto,motorcycle,industry,ariculture,mine,furniture,elevator,etc

Experienced engineers and technicians; Skilled Workers;

Solidworks,Pro/Engineer,Auto CAD,PDF,JPG

Warm and quick response service provided by the professional Export Sales Team with many years' experience in handling exports to
the US, Europe, Japan and other countries and regions.
Inspect equipment we have: Spring Detection: The inspection include the appearance of the spring, the size of the spring (material diameter, free height, outer diameter, total number of turns, tip clearance and thickness, pitch uniformity, pressure and height, Grinding surface, verticality, end face execution, straightness), spring characteristic detection, permanent deformation detection, spring hardness, metallographic structure (spring decarburization layer, grain size, non-metallic inclusions), spring spray Pill quality inspection, non-destructive testing of springs, fatigue life testing of springs
Package&Delivery: Carton case,wood case outside.The parcel can delivery by Fedex,TNT,UPS,DHL ect.