Bounce Higher with Double Hook Trampoline Springs!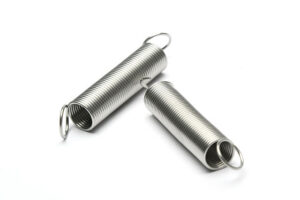 Are you looking for an exciting way to exercise and have fun at the same time? Look no further than trampolining! Trampolining is a fantastic way to improve your fitness while having a blast, and it's easy to do with your own trampoline in your backyard.
One of the most important components of a trampoline is the spring system. Without a good set of springs, your trampoline won't bounce properly, and you won't get the full benefits of trampolining. That's why we recommend the Double Hook Trampoline Spring – the best spring system for your trampoline!
What Makes Double Hook Trampoline Springs Different?
Double Hook Trampoline Springs are unique because they have two hooks on each end instead of one. These hooks are designed to securely attach to your trampoline frame and mat, giving you a more stable and safe jumping experience. The double hooks also distribute weight evenly, reducing stress on your trampoline and extending its lifespan.
Another advantage of Double Hook Trampoline Springs is that they are more durable than other types of springs. Made from high-quality steel, these springs are built to last and withstand the wear and tear of regular use. They also have a rust-resistant coating, so you don't have to worry about them corroding over time.
Finally, Double Hook Trampoline Springs are easy to install. They come in a variety of sizes to fit any trampoline, and the double hooks make it simple to attach them to your frame and mat. You'll be bouncing higher and having fun in no time!
Why Choose Double Hook Trampoline Springs?
There are many reasons why Double Hook Trampoline Spring are the best choice for your trampoline. Here are just a few:
1. Improved Safety: With their double hooks and sturdy construction, Double Hook Trampoline Springs provide a safer and more stable jumping experience.
2. Better Bounce: Double Hook Trampoline Spring distribute weight evenly, providing a smoother and more consistent bounce.
3. Durability: Made from high-quality steel and coated with rust-resistant material, Double Hook Trampoline Springs are built to last.
4. Easy Installation: With their double hooks and variety of sizes, Double Hook Trampoline Springs are easy to install on any trampoline.
Custom Trampoline Spring
Spring steel:carbon steel, middle carbon steel,music wire.
Stainless steel: 301,302,304,316,17-7PH,etc
Beryllium Copper, brass, Phosphor Bronze, etc
Alloy steel and other custom material available.

Zinc plating, Nickel plating, Electrophoresis, black oxide, Chrome plating, Silver plating, Gold plating, Power coating,Passivation, PVC dipping, etc

Inner PE/PP bags, Outer carton, Pallet, wooden crate, tray and so on.
Accept customers' request.
So if you want to get the most out of your trampolining experience, invest in Double Hook Trampoline Springs! You'll love the improved bounce, added safety, and long-lasting durability. Get ready for hours of fun and fitness with the best spring system on the market!