Extension Spring For Chair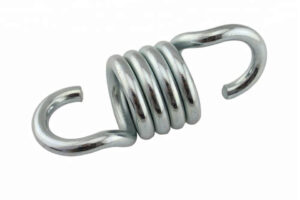 This Extension Spring For Chair is also customized by foreign customers. We produce according to the detailed drawings provided by customers. No matter the price or delivery time, we can provide customers with satisfactory service. Moreover, the order quantity is flexible. Therefore, many guests are happy to order various springs from us.
Description:
– Heavy Duty and High Strength Marine Extension Spring for Hammock Chair Hanging Kits
– Easy to install, durable and corrosion resistant
– Multiple applications, suitable for both internal and exterior use, such as marine boat, trucks, van, caravan, trailers, hammock chair hanging kit, ect.
– Zinc plated for sleek appearance and to match today's modern watercraft
Extension Spring For Chair Specification:
– Material: Zinc Steel
– Length: Approx 108mm
– Width: Approx 39mm
– Open Length: Approx 11.5mm
– Width of Inner Spring: Approx 25mm
– For Diameter of spring thickness : Approx 7mm
– Color: Zinc Coated
Custom Extension Spring
Product Name

Extension Spring

0.01 to 12mm

Stainless steel, carbon steel, spring steel, alloy spring steel, refractory steel, brass, and bronze (most of them are imported
from Korea, Germany and Japan)

Zinc-plated, nickel-plated, chrome-plated, silver-plated, gold-plated, imitation gold-plated, etc.

Inner-Plastic Bag; Outer -Standard Carton Box.

All kinds of cars, machinery, home appliance, electronic products, electric appliance, stationery, computers, power switches,
miniature switches, architecture, commodity and A/V equipment, hardware and plastic molds, sports equipment, and so on.

Conducted by ISO/TS16949:2002 and ISO14001:2004 system.

Advanced CNC spring machinery; Advanced grinding and shot peening machinery; Precise tensile strength testers, compression
testers, endurance testers, and magnetic powder flaw detectors;

Auto,motorcycle,industry,ariculture,mine,furniture,elevator,etc

Experienced engineers and technicians; Skilled Workers;

Solidworks,Pro/Engineer,Auto CAD,PDF,JPG

Warm and quick response service provided by the professional Export Sales Team with many years' experience in handling exports to
the US, Europe, Japan and other countries and regions.