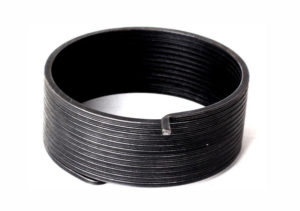 Square wire spring
All types of coil springs (compression, tension, torsion, double torsion, steel wire form and flat form) can be made of square or rectangular steel wire,which called square wire spring. Wires of these shapes usually produce stronger springs than circular wires of the same design and specification. Square or rectangular wires are often used when more deflection or strength is required.
Our experienced and knowledgeable staff are willing to work with our customer's technical department to develop or modify drawings, samples or specifications to provide perfect square wire springs for applications. The square and rectangular wire springs manufactured by us exceed our expectations. We have developed standard fixtures, fixtures and tools to accommodate most standard square wires. We are pride of ourselves on turning our customers' ideas into reality: if you can think, we can do it!
Square springs manufacturer
Square wire spring
Material

Stainless steel, carbon steel, spring steel, alloy spring steel, refractory steel, brass, bronze, etc

Load type
 compression,extension,torsion,etc
Finish
Zinc-plated, nickel-plated, chrome-plated, silver-plated, gold-plated, imitation gold-plated, and  as customers request
Advantage
High quality, competitive prices, first-class fully automatic production equipment , safe package and prompt delivery .
Application
industrial equipment,electronic devices,etc
Payment terms
T/T, L/C,WU
Lead-time
15 days
Packaging
Inner plastic bag, outer carton box, and advised by customer.
Certification
ISO9001:2008 ,ISO14001and ROHs
Equipments
Advanced CNC computer spring machines with high precision and efficiency
Technology
Experienced engineers ,technicians and Skilled Workers;
Inside diameter
As your request
Outside diameter
1 mm and above.
Free length
The overall length of a spring in the unloaded position.
Total coils
The total number of coils including the active coils,the top and bottom ends
Active Coils
The coils which are free to deflect under a force.
Wire diameter
  0.01~ 10mm
Style of Ends
Open / Closed;ground or not
Load
Our computer program can assist you on the load design.