Battery Spring Connector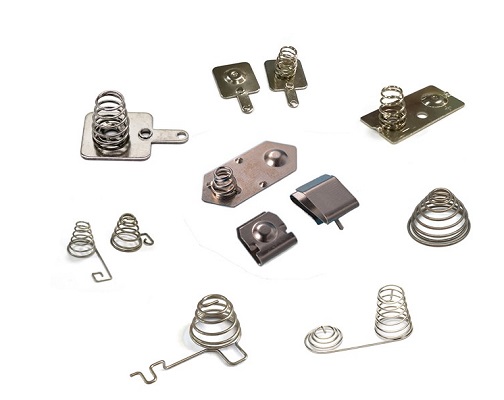 As you see from the above pictures, the most of Battery Spring Connector is made by compression spring with stamping plate.The material can be steel or stainless steel and so on.
As a professional spring maker in China,we make a lot kinds of Battery Connector with different shape and size.
What is Battery Connector
The battery shrapnel belongs to the category of metal stamping and electronic hardware materials. Also known as battery connection piece, charger terminal, battery connection contact piece, battery spring piece, hardware battery piece, battery button, etc.
It is an important part of the battery, made of copper, iron, stainless steel and other materials. Electroplating CT, silver, nickel. When the battery shrapnel mounted on the conductive film is pressed, the center point of the shrapnel contacts the PCB board to form a loop, and current passes through. It has the characteristics of strong conductivity and good hand feeling.
Mainly used in 1, 2, 3, 5, 7 batteries, lighting, telephones, plush toys, electric toys. Anti-theft products, radios, digital cameras, lithium batteries, electronic dictionaries, ordering machines, and various small electronic products.
Battery Spring Connector Manufacturer
Item

Bsttery Springs

Material

SS302(AISI302)/ SS304(AISI304)/ SS316(AISI316)/SS301(AISI301)

SS631/65Mn(AISI1066)/60Si2Mn(HD2600)/55CrSiA(HD1550)/

Music wire/C17200/C64200, Etc

Wire diameter

0.1~20 mm

Finish

Zinc plating, Nickel plating, Anodic oxidation,Black oxided,Electrophoresis

Power coating, Gold plating, Silver plating, Tin plating, Paint,Chorme, Phosphate

Dacromet,Oil coating, Copper plating, Sand blasting, Passivation, Polishing,Etc

Sample

3-7 work days

Delivery

7-15days

Warranty period

One year
Custom Metal Spring Factory
We are a factory specializing in the manufacture and export of springs. We have profuse designs with series quality grade, contains a wide variety of world-class manufacturing and machines testing equipment.
Our company mainly develop and produce Spring, for instance, Compression Spring, Battery Contact Spring, Extension Spring, Torsion Spring, Tube Clip Spring, Wrest spring, Flake Spring,Stamping Part ,Shrapnel and so on, beside these, we also manufacture any other hardware product, Screw, Washes, , Wire Forms, Metal Stamp, Fruit Fork, rings and LED FLASH so on.
During the process of production, we strictly monitor professional production lines and the quality is also inspected and tracked by specialists. The quality and after-sales service have a good impression on most of our customers. Enjoying a great commercial reputation in the international market, we are now looking forward to even greater cooperation with overseas customers based on mutual benefits. We will provide the most perfect services for new and old customers at a reasonable price. Please feel free to contact us for more details.