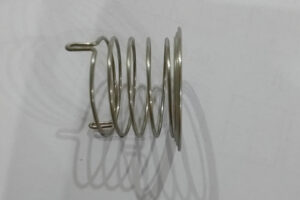 Contact Springs
Item:Custom designed Contact Springs,also to be called Battery Spring.It's a kind of compression spring.
Material: Stainless steel 304
Wire diameter: 0.8mm
Width: 20mm
Height: 25mm
Finish: barrel polish
Market:Europe
Package: in carton and then in pallet
Note: the sample we show here is for reference, not for sale.
Custom-Made Contact Springs manufacturer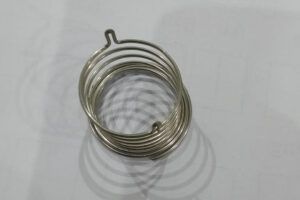 In the realm of electrical and electronic devices, the effective flow of current is crucial for optimal performance. Contact springs play a vital role in ensuring reliable electrical connections. As a professional manufacturer specializing in contact spring, we understand the significance of precision, durability, and consistent functionality. In this article, we will delve into the key attributes that set us apart as your trusted partner for high-quality contact spring.
Unparalleled Expertise:
With years of experience in the industry, we have established ourselves as the go-to manufacturer for contact springs. Our team of skilled engineers possesses comprehensive knowledge and expertise in designing and producing such springs for various applications. Whether it's for connectors, switches, relays, or other electrical devices, we have the know-how to deliver customized solutions that meet your specific requirements.
Customization Excellence:
We recognize that every electrical application has unique demands, and off-the-shelf solutions may not always suffice. That's why we offer extensive customization options for our contact springs. From material selection to spring design and dimensions, we work closely with our clients to understand their specific needs and deliver tailor-made solutions that ensure optimal performance and reliability.
Type

Material

SS302(AISI302)/ SS304(AISI304)/ SS316(AISI316)/SS301(AISI301)

SS631/65Mn(AISI1066)/60Si2Mn(HD2600)/55CrSiA(HD1550)/

Music wire/C17200/C64200, Etc

Wire diameter

0.1~20 mm

Finish

Zinc plating, Nickel plating, Anodic oxidation,Black oxided,Electrophoresis

Power coating, Gold plating, Silver plating, Tin plating, Paint,Chorme, Phosphate

Dacromet,Oil coating, Copper plating, Sand blasting, Passivation, Polishing,Etc

Sample

3-7 work days

Delivery

7-20days

Process
Premium Material Selection:
At our state-of-the-art manufacturing facility, we prioritize the use of premium materials to ensure the longevity and efficiency of our contact springs. We offer a wide range of high-quality materials, including various alloys and conductive materials, to cater to diverse electrical and environmental conditions. Our meticulous material selection process ensures that our springs exhibit excellent conductivity, corrosion resistance, and durability.
Precision Engineering:
Precision is the cornerstone of our manufacturing process. We employ advanced engineering techniques to produce contact springs with consistent dimensions and characteristics. Our skilled technicians utilize cutting-edge equipment to perform wire forming, coil winding, and heat treatment, guaranteeing that each contact spring meets stringent quality standards. This precision engineering ensures reliable and uninterrupted electrical contact within your devices.
Stringent Quality Control:
Quality control is of utmost importance to us. We have implemented a rigorous quality assurance process to ensure that our springs surpass industry standards. Through comprehensive inspections, testing, and adherence to strict quality control protocols, we guarantee that each contact spring leaving our facility is defect-free and performs flawlessly. This meticulous approach ensures that your electrical devices operate with utmost efficiency and reliability.
Order Contact Springs from us
When it comes to contact springs, choosing a professional manufacturer with a focus on precision, customization, and uncompromising quality is essential. With our unparalleled expertise, premium materials, precision engineering, stringent quality control, and collaborative approach, we are the trusted partner for your custom spring requirements. Contact us today to discuss your needs and experience the power of perfect contact in your electrical devices.