Battery Compression Spring
Item: Custom-made Battery Compression Spring according to drawings.
Wire diameter:0.2mm
Material: SUS 304
Height: 8mm
Width: 5mm
Finish: polish
Market:American
Package: poly-bags,then in carton and then in pallet
Note: the sample we show here is for reference, not for sale.This is custom-design items
About us – Professional spring manufacturer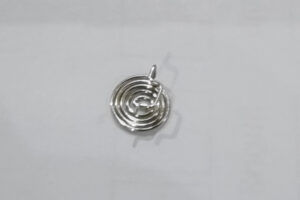 When it comes to the reliable operation of battery-powered devices, the quality of every component is crucial. One such vital component is the battery compression spring. As a professional manufacturer specializing in compression springs, we understand the importance of precision, durability, and performance. In this post, we will highlight the key features that set us apart as your trusted partner in providing high-quality battery springs.
Superior Material Selection:
At our manufacturing facility, we prioritize the use of top-grade materials in producing battery compression springs. Our careful material selection process ensures that the springs are resistant to corrosion, fatigue, and wear, extending their lifespan and contributing to the overall efficiency of your battery-powered devices. We offer a range of materials, including stainless steel and other alloys, to suit various applications and environmental conditions.
Customization Battery Compression Spring Options:
Type

Material

SS302(AISI302)/ SS304(AISI304)/ SS316(AISI316)/SS301(AISI301)

SS631/65Mn(AISI1066)/60Si2Mn(HD2600)/55CrSiA(HD1550)/

Music wire/C17200/C64200, Etc

Wire diameter

0.1~20 mm

Finish

Zinc plating, Nickel plating, Anodic oxidation,Black oxided,Electrophoresis

Power coating, Gold plating, Silver plating, Tin plating, Paint,Chorme, Phosphate

Dacromet,Oil coating, Copper plating, Sand blasting, Passivation, Polishing,Etc

Sample

3-7 work days

Delivery

7-15days

Process
Precision Engineering:
In battery-powered devices, even the smallest component plays a significant role. Our precision engineering techniques ensure that each battery compression spring we produce meets strict quality standards. From wire forming to coil winding and heat treatment, our skilled technicians employ state-of-the-art equipment to achieve consistent dimensions and characteristics, ensuring reliable and efficient operation of your devices.
Stringent Quality Assurance:
Quality is our top priority, and we have implemented a rigorous quality assurance process to ensure the reliability and performance of our battery compression springs. Our quality control measures include comprehensive inspections, testing, and adherence to international industry standards. Each spring undergoes meticulous scrutiny, guaranteeing that only defect-free products reach our customers.
Collaborative Expertise:
We believe in fostering collaborative partnerships with our clients. Our team of experienced engineers and customer support professionals are readily available to understand your specific requirements and provide expert advice. Whether you need assistance with design optimization, material selection, or technical guidance, we are committed to delivering exceptional customer service throughout the manufacturing process.
Order Battery Compression Spring from us
When it comes to battery springs, choosing a professional manufacturer with a focus on quality and customization is essential. With our expertise, superior materials, precision engineering, strict quality assurance, and collaborative approach, we are the trusted partner for your battery-powered device needs. Contact us today to discuss your requirements and let us provide you with the highest quality battery compression springs for your applications.