The Benefits of Copper Compression Springs: Why They are the Best Choice for Your Project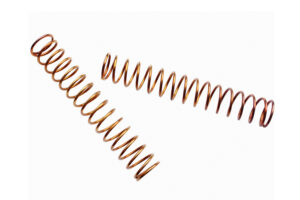 Springs are essential components in various mechanical applications, from automobiles to industrial machinery. They enable machines to function smoothly and efficiently, absorbing excess energy and storing it for later use. However, not all springs are created equal, and choosing the right one for your project can make all the difference. In this post, we'll take a closer look at copper compression springs and why they are the best choice for your next project.
What are Copper Compression Springs?
They are made from high-quality copper material that has been cold-drawn and heat-treated to produce a resilient and durable spring. They are known for their superior strength and resistance to corrosion, making them ideal for use in harsh environments. Copper compression springs come in a range of sizes, shapes, and configurations, making them versatile for use in various applications.
Benefits
1. High Corrosion Resistance:
One of the main benefits of copper compression springs is their high resistance to corrosion. Unlike other types of springs that may rust or corrode when exposed to moisture or chemicals, copper springs can withstand harsh conditions without losing their strength or performance. This makes them ideal for use in marine, oil, and gas industries, where corrosion is a common problem.
2. High Strength:
They are known for their superior strength and durability. They can withstand high loads and repeated cycles without deforming or losing their shape. This makes them an excellent choice for heavy-duty applications that require reliable and long-lasting springs.
3. Excellent Conductivity:
Copper is an excellent conductor of electricity, making copper compression springs a perfect fit for electrical applications. They can be used in switches, relays, and other electrical devices that require a reliable and conductive spring.
4. Low Coefficient of Friction:
They have a low coefficient of friction, making them ideal for use in applications where smooth and quiet operation is necessary. They can be used in door locks, hinges, and other mechanisms that require a low-friction spring.
Custom Compression Springs Manufacturing
Spring steel:carbon steel, middle carbon steel,music wire.
Stainless steel: 301,302,304,316,17-7PH,etc
Beryllium Copper, brass, Phosphor Bronze, etc
Alloy steel and other custom material available.

Zinc plating, Nickel plating, Electrophoresis, black oxide, Chrome plating, Silver plating, Gold plating, Power coating,
Passivation, PVC dipping, etc

Inner PE/PP bags, Outer carton, Pallet, wooden crate, tray.
Accept customers' request.
Conclusion:
Copper compression springs offer a range of benefits that make them an excellent choice for various mechanical applications. They are strong, durable, and corrosion-resistant, making them ideal for harsh environments. They also have excellent conductivity and a low coefficient of friction, making them perfect for electrical and low-friction applications. If you're looking for a reliable and versatile spring for your next project, consider copper compression springs.