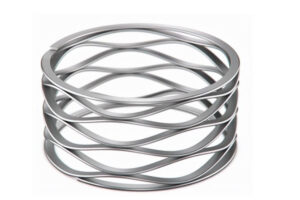 What is Crest to Crest Wave Spring
Crest to crest wave spring, also known as wave compression spring or spiral wave spring, is similar to the common cylindrical coil spring in shape and is made by bypassing the wave crest to wave crest spiral of wavy flat metal wire. After heat treatment and surface treatment, it has excellent elasticity and toughness.
Wave Spring Features
The opposite top wave spring has the following characteristics:
Suitable for occasions with large stroke, medium and small load;
Compared with ordinary spiral compression spring, at least half of the space can be saved when bearing similar load;
It can reduce the overall volume of the equipment and save costs;
Very suitable for places with limited axial space;
The use requirements of different loads can be met by changing the thickness and width of the material or making two or three overlapping wave springs.
Due to the above advantages, the opposite top wave spring gradually replaces the conventional cylindrical coil spring in many occasions
Material
The top wave spring can be made of a variety of materials, such as spring steel, stainless steel, and copper alloy and superalloy in special occasions. At present, the materials commonly used in the market are carbon spring steel, alloy spring steel, stainless steel 304316, 17-7ph, etc.
 Application
The opposite top wave spring is widely used in machinery manufacturing, petroleum and chemical engineering, hydraulic equipment, automobile and locomotive manufacturing, aviation industry, refrigeration engineering and other industries, such as motor, compressor host, fluid valve, water valve, air valve, automobile clutch, brake, electrical connector, bearing preloading device and compensation device, shaft seal, mechanical seal, etc.
Spring Manufacturer
With many years' development, Spring In China  grows into a modern enterprise specializing in researching, designing, manufacturing, sales and service of springs.
We have established a quality system which is based on the requirements of ISO9001:2000 and ISO /TS 16949.Up to now, our products have been exported to more than 30 countries and regions in the world.
We have complete product range for automotive, covering car, mini car, truck, motorcycle, engineering machinery, agriculture machinery, mining machinery, oil chemistry, power equipment, precision instrument, sport apparatus, electrical equipment and power tools.
With the most advanced manufacturing machines and complete test equipment as well as professional inspection staff, we can supply the most stable quality products and enjoy a good reputation among customers. We produces springs with wire diameter from 0.2 mm to 80 mm.
Our products include compression springs, extension springs, torsion springs, Belleville springs, spiral springs, wave springs, die springs, wire form parts and punching components.
In terms of testing equipment, we are equipped with spring extension and compression machine for all specification, mechanical spring fatigue testing machine, metallurgical microscope, magnetic powder detection machine, salt spray tester and spring wire torsion test machine.We will, as always, continue to develop and create classic springs.
If you are looking for durable springs, please contact us.