Custom Wire Forms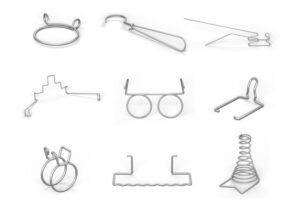 Custom Wire Forms refers to the bending of wires with different diameters and materials into the shape and performance required by customers through a CNC universal spring machine. Most wires can be bent through spring machines, while a few products must be bent through stamping dies.
Firstly, we put the wire into a mold, and then pull the wire to the front of the mold through the mold. There is a punch at the front of the mold, which is used to pull the wire out of the mold. A key point to note here is to accurately match the punch and wire. This punch should be aligned with the center of the wire, and it should not be too large, otherwise the wire pulled out is prone to deformation and other situations.
In this process, we need to apply pressure to the punch, and under the pressure, the wire will be pulled out. After a stretch, we can break the wire and put it into the mold. The next step is to pull the wire out of the mold. This process also needs to be noted. If the pulled wire is not straight or deformed severely, it can lead to problems in subsequent processing. During this process, attention should be paid to observing the changes in the wiring harness and the effect after stretching.
After passing through these processes, we can see that a wire has been pulled into shape. Next, let's take a look at the issues that need to be noted during this process.
The first point: We should note that the wire is prone to deformation, twisting, and other situations during stretching. Special attention should be paid here because there will be a straightening process after the wire is stretched, so it is necessary to adjust the stretching parameters and pressure values appropriately during the next process.
The second point: After pulling a wire, we should not rush to handle that wire, but rather organize the wiring harness before processing that wire.
Custom Wire Forms Manufacturer
Item

Factory Custom OEM 

Wire Forming Services

, CNC Metal Aluminum Iron Carbon Steel Stainless Steel Wire Forms Springs

Material

Spring steel (SWC), Music wire(SWP), Stainless steel(SUS), Mild-carbon steel, Phosphor copper, Beryllium copper, Brass, Aluminum 60Si2Mn,55CrSi, Alloy steel etc.
—Stainless steel 17-7-PH(631SUS), Inconel X750, Bezinal Wire etc

Size

Customized

End hooks

U shape, round shape,Any shape you need.

Finish

Zinc plating, Nickel plating, Anodic oxidation,Black oxided,Electrophoresis

Power coating, Gold plating, Silver plating, Tin plating, Paint,Chorme, Phosphate

Dacromet,Oil coating, Copper plating, Sand blasting, Passivation, Polishing,Etc

Sample

3-7 work days

Delivery

7-15days

Warranty period

One year

Payment Terms

T/T,D/A,D/P,L/C,MoneyGram,Paypal payments.

Package
1.PE bag inside, carton outside/Pallet.
2.0ther packages: Wooden box. individual packaging, tray packaging,tape & reel packaging etc.
3.Per our customer's need.
How to order
1. Send us your design drawings, samples or design concept drafts, and then we will evaluate your product and budget unit price for you. If you need to make samples after you agree, we will communicate with you again.
2. Sample production time: 3 days for simple samples, 7-10 days for mold opening for complex samples.
3. For particularly complicated samples, we will communicate with you individually.
4. Mass production delivery: Usually the delivery time is 10-15 days, but if it is an urgent order, we can try 7-10 days. If the order is large, it depends on the production plan.
5. We are a manufacturer and welcome long-term cooperation.