Precision Stainless Steel Extension Spring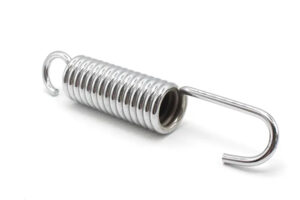 As a spring maker in china, we can produce Precision Stainless Steel Extension Spring according to sample or drawings.It's still competitive to source the springs from China.
Place of Origin:China
Brand Name:Custom
Model Number:CUSTOM
Style:Spiral
Material:Stainless steel, Custom
Usage:Industrial
Type:Hardware Parts
Quality control:100% inspection
Size:0.1mm-10mm
Model Number::CUSTOM
Delivery:10-15 days
Application:Hardware
Finish:Customzied
MOQ:500 Pcs
As a competitive supplier, we have been committed to developing and manufacturing high-quality products.We mainly specialize in the manufacture and export of metal wire forming products, such as compression springs, tension springs, torsion springs, battery contact springs, special-shaped products, as well as metal hooks,stamping parts, shrapnel, etc. These products are widely used in various fields, such as: automobile industry, electrical appliances, mechanical equipment, hardware tools and so on.
Precision Tension Spring Manufacturer
Tension Springs are familiar to many people and are widely used in life. Springs include tension springs and compression springs. In this article, we need to explain the characteristics of tension springs, which are often used in hand tools, shock absorption equipment, switch equipment machines, control valves and other tools. They are useful in various fields, and have various materials. Here, I will explain the characteristics of the tension spring and how to detect its characteristics to help you understand the tension spring.
The tension spring is a spiral spring that bears axial tension. It uses the tension after stretching to store energy. It will try to pull back to the original position after pulling away, and generate resistance. When not bearing load, the coils of the tension spring are tight, so the tightness of the coil of the tension spring is determined by the initial tension. Its production materials usually include stainless steel, piano steel, high carbon steel, phosphor copper, oil tempered alloy spring steel, etc.
The closure of the extension spring usually includes thread embedded, cross center pull ring, pull hook, enlarged small hole, reduced small hole, rectangular closure and water drop-shaped closure. The length from the closure to the spring body can be determined according to the specific situation. The more common is the hook tension spring, whose "hook" is the source of tension, and its shape is usually circular section, which is convenient to fix to the connected components.
Size 
Customized and in stock
Wire diameter  
0.1~20 mm
Material  
SS302(AISI302)/ SS304(AISI304)/ SS316(AISI316)/SS301(AISI301)
SS631/65Mn(AISI1066)/60Si2Mn(HD2600)/55CrSiA(HD1550)/
Music wire/C17200/C64200, Etc
Finish  
Zinc plating, Nickel plating, Anodic oxidation,Black oxided,Electrophoresis
Power coating, Gold plating, Silver plating, Tin plating, Paint,Chorme, Phosphate
Dacromet,Oil coating, Copper plating, Sand blasting, Passivation, Polishing,Etc
Ends  
Close and ground, close and square, double close end, open ends
I.D  
>=0.1 mm
O.D  
>=0.5 mm
Free length  
>=0.5 mm
Total Coils  
>=3
Active coils  
>=1
Payment Terms  
T/T,D/A,D/P,L/C,MoneyGram,Paypal payments.
Package  
1.PE bag inside, carton outside/Pallet.
2.Other packages: Wooden box, individual packaging, tray packaging,tape & reel packaging
3.Per our customer's need.
Certification  
ISO9001,SGS,ROSH
Production time  
1-3 days
Lead time  
6-10 days