What's Single Turn Wave Spring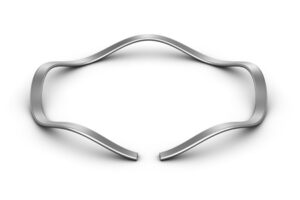 Single Turn Wave Spring is an elastic element with several peaks and valleys on a thin metal ring, with only one circle. It is usually used in situations where the load and deformation are small and the spring stiffness is small and axial preload is required. Wave spring is especially suitable for applications requiring weight reduction and those restricted by small installation space. Its typical application fields include aerospace, precision machinery, hydraulic seal and high-end motor.
The product is made of high-quality spring steel 65Mn (60Si2MnA / 50CrVA / 0cr17ni7al / SUS304). After heat treatment by specific methods and according to specific conditions, the hardness is generally controlled between hrc44-55, the surface is blackened and has good elasticity.
Wave Spring Finish
(1) Blackening treatment: this surface treatment provides a black surface. Blackening is for beautification rather than corrosion resistance.
(2) Chromium plating: chromium plating is mainly a treatment method for carbon steel products, mainly to increase corrosion resistance.
(3) Oil immersion: oil immersion is a standard treatment method for carbon steel Chanba to prevent corrosion during transportation and storage.
(4) Passivation: passivation is a cleaning method for stainless steel materials.
(5) Phosphate coating: the corrosion resistance of phosphating is better than that of boiling black.
(6) Ultrasonic cleaning: This is the standard and surface treatment method of stainless steel.
(7) Vibration deburring: to eliminate sharp parts of the product.
Types of Wave Spring
Wave spring is divided into WS series wave spring and WSS series wave spring.
(1) Ws series
Ws series is a continuous winding wave crest staggered corrugated spring. The characteristic of this series of spring is that it can provide ideal elastic force in a small installation space and save 50% space than the general coil spring.
(2) WSS series
WSS series is a wave crest staggered corrugated spring with flat ring. In addition to the advantages of WS wave spring, the spring has flat rings at both ends, which is equivalent to adding two washers. Therefore, the elastic force of the spring is more uniform in the process of use. It is especially suitable for the environment where the two end faces of the installation space have holes, and the wave crest of WS type is easy to fall into the holes and cannot be used.
According to the processing technology, it is divided into stamping wave spring and winding wave spring.
Custom Wave Spring Services
Single-turn wave springs are used for several applications, mainly designed for short deflection and low to medium forces. Technology enables to provide a dependable and accurate fit.
Processing Steps:
Design →Drawing→ Flat the wire → CNC Machining → Heat treatment → Surface → Finishing → Quality Inspection → Packing
Primary Competitive Advantage:
•Over 3000 types Wave springs and Spiral rings standard parts in stock
•Prompt Delivery Quality Approvals
•Service Sample Available
•We have many years of professional experience as a manufacturer of Wave springs , Spiral Retaining Rings , Constant Section Retaining Ring , Laminar Seal Rings,Multi Turn Wave Spring.
Other springs We can offer
If need to study more professional information about wave springs,Please check from wikipedia.