Adjustable Chair Tension Spring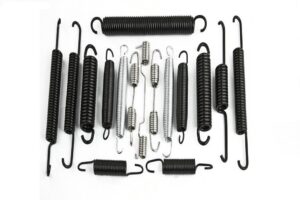 Tension springs are widely used. Especially for furniture products, here we introduce the Adjustable Chair Tension Spring which is used in the adjustable chair. This is a custom-made product. In order to save costs, the material is spring steel wire, and the appearance is galvanized to prevent rust.
More information about custom tension springs is as follows:
Wire diameter

0.2-12mm

Material

Steel: steel, carbon steel, stainless steel, music wire steel, plated steel, galvanized steel, other alloy steel

Copper: copper, phosphor copper, beryllium copper bronze, red bronze

Iron

Aluminum, etc.

Surface treatment

Plating: Zinc/Nickel/Chrome/Copper/sliver plating

Powder coating

Black oxide

Oiling, etc.
What is Tension Spring ?
Tension spring, also known as helical tension springs, are generally of equal pitch and circular cross-section. They can be used in many occasions, such as production assembly, experiment, R & D and maintenance. Tension springs occupy an important position in the global market and are widely used in the fields of national defense, ocean, computer, electronics, automobile, mold, medicine, biochemistry, aerospace, railway, nuclear power, wind power, thermal power, construction machinery, mining machinery, construction machinery, elevator and so on.
Adjustable Chair Tension Spring Quotation
Price is made according to the material and spring design.Please send us drawing with details.
User Guide
In order to quote you the best price, please provide the following information:
1) Product drawing and size
2) Order quantity
3) Printing and functional requirements
4) Any special packing or other requirements
Applications
Electronic Industrial, Automobile Industrial, Furniture, etc.
Adjustable Chair Tension Spring Packing
Inner packing: plastic bag; Outer packing: carton box wooden box. Beside, We can make customer.
Delivery Time
We can arrange shipment on time, usually 7-15days after order
About us
We are professional spring manufacturer, have over 10 years experience in spring production and sales, we have modern spring production devices and experienced design team. We have accumulated extensive experience in not only order production but also small order, and develop the products with excellent quality on the basis of Customers specific requirements. High quality and low price. The range of our products is wide, including Compression springs, Extension springs, Torsion springs, Battery spring, Power spring, Coil spring , Leaf spring, Mould spring, etc. and other unique feature products.