Clocks Torsion Spring Manufacturer: Crafting Timepieces with Precision and Functionality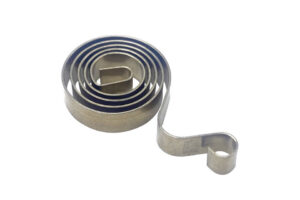 Clocks have been an integral part of human lives for centuries, allowing us to measure time and organize our daily activities efficiently. While the internal mechanisms of clocks are complex and intricate, a vital component that ensures their smooth operation is the torsion spring. In this article, we will delve into the world of clocks torsion spring manufacturers, exploring their role in crafting timepieces with precision and functionality.
The Importance of Clocks Torsion Springs:
It serve a crucial function in timekeeping devices by providing the necessary energy to drive their movement. These springs store potential energy when twisted and release it gradually, ensuring the consistent rotation of clock hands. Their design and manufacturing require precision and expertise to guarantee accurate timekeeping, longevity, and reliability.
Craftsmanship and Expertise:
Clocks torsion spring manufacturers are known for their craftsmanship and expertise in producing high-quality components. These professionals possess extensive knowledge of metallurgy, engineering principles, and clock mechanisms. By combining these skills, they create torsion springs that meet the stringent requirements of the timekeeping industry.
Material Selection:
They are typically made from durable and flexible materials such as high-carbon steel or phosphor bronze. Manufacturers carefully select the appropriate material based on the specific requirements of the clock mechanism. Factors such as elasticity, corrosion resistance, and fatigue strength play pivotal roles in determining the ideal material for each application.
Precision Manufacturing Process:
The manufacturing process of this kind of springs involves several steps executed with utmost precision:
1. Design and Prototyping: Manufacturers collaborate with clock designers and engineers to create custom torsion spring designs based on the clock's specific requirements. Prototypes are developed and tested to ensure optimal performance.
2. Material Preparation: High-quality materials are sourced and prepared for production. This involves cutting, shaping, and heat treatment processes to impart the desired mechanical properties.
3. Wire Forming: Using specialized machinery, manufacturers accurately form the wire into the desired shape, intricately adjusting the dimensions and angles to ensure proper torque and fit within the clock mechanism.
4. Coiling and Tempering: The wire is carefully coiled, ensuring consistent pitch and torsion for uniform energy storage. Subsequently, the springs undergo tempering, a heat treatment process that enhances their elasticity and resilience.
5. Finishing and Quality Control: The Clocks Torsion Spring are meticulously inspected, removing any imperfections and ensuring dimensional accuracy. Surface treatments, such as polishing or plating, may be applied to enhance aesthetics and prevent corrosion.
Conclusion:
Clocks torsion spring manufacturers play a vital role in the production of accurate and reliable timekeeping devices. Through their craftsmanship, expertise, and precision manufacturing processes, they craft torsion springs that provide the necessary energy to power clocks with exceptional functionality. These manufacturers contribute to the rich history of timekeeping, ensuring that clocks continue to serve as indispensable tools in our daily lives.