Robotics Torsion Spring Manufacturer: Empowering Robotic Systems with Precision and Efficiency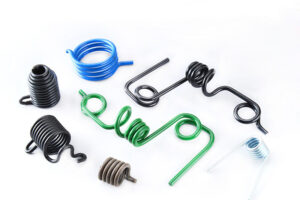 The field of robotics has revolutionized industries and enhanced countless aspects of our lives. From automation to artificial intelligence, robots have become integral in various sectors. Behind the seamless movement and functionality of robotic systems lies a crucial component known as the torsion spring. In this article, we will explore the world of robotics torsion spring manufacturers, delving into their role in empowering robotic systems with precision and efficiency.
The Significance of Robotics Torsion Springs:
Robotics torsion springs play a vital role in ensuring smooth and controlled movement in robotic mechanisms. These springs are responsible for storing and releasing energy, enabling robots to perform intricate movements and tasks with accuracy and precision. Their design and manufacturing process require expertise and meticulous attention to detail to meet the demanding requirements of modern robotic technology.
Expertise in Engineering and Innovation:
Manufacturers specializing in robotics torsion springs possess extensive knowledge in engineering principles, material science, and robotic kinematics. They combine this expertise with a deep understanding of the unique challenges faced by robotic systems. This allows them to develop innovative solutions that optimize performance and longevity while considering factors such as weight, space constraints, and power consumption.
Material Selection and Customization:
The choice of materials for robotics torsion springs is crucial in achieving the desired performance characteristics. Manufacturers carefully select materials with excellent elasticity, fatigue resistance, and corrosion resistance to withstand the demanding operating conditions of robotic applications. Furthermore, they offer customization options to tailor the torsion springs based on specific robot designs and functionalities.
Precision Manufacturing Process:
The manufacturing process of robotics torsion springs involves several critical stages:
1. Design and Simulation: Manufacturers collaborate closely with robot designers and engineers to understand the specific requirements and movement patterns of the robot. Advanced simulation techniques allow for precise modeling and optimization of the torsion spring's geometry and performance.
2. Material Preparation: High-quality materials, such as alloy steel or titanium alloys, are selected and prepared for production. This involves precision cutting, shaping, and heat treatment processes to ensure the desired mechanical properties.
3. Spring Forming: Specialized machinery is employed to accurately form the wire into the desired torsion spring shape, considering factors such as spring rate, torque, and space limitations within the robot's joints or limbs.
4. Calibration and Testing: The manufactured Robotics Torsion Spring undergo thorough calibration and testing processes to verify their performance characteristics. This includes measuring torque, angular deflection, and fatigue life to ensure compliance with design specifications.
5. Quality Control and Final Assembly: Strict quality control measures are implemented to ensure the highest standards of precision and reliability. Once verified, the torsion springs are carefully integrated into robotic systems, contributing to the overall functionality and performance of the robots.
Conclusion:
Robotics torsion spring manufacturers play a pivotal role in enhancing the performance and efficiency of robotic systems. Through their expertise in engineering, material science, and precision manufacturing processes, they produce torsion springs that empower robots to perform intricate tasks with accuracy and ease. These manufacturers contribute to the advancements in robotics, driving innovation in automation and unleashing the full potential of robotic technology in various industries.