Unleashing Performance and Safety: Manufacturing Sports Equipment Torsion Springs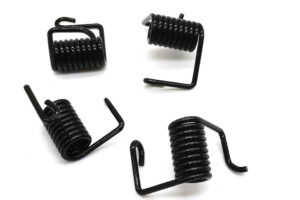 As athletes push the boundaries of human performance, the need for reliable and high-performing sports equipment becomes paramount. At our manufacturing facility, we specialize in crafting top-quality torsion springs for sports equipment. In this article, we will explore the significance of springs in sports equipment, delve into our manufacturing process, and highlight the key benefits of choosing our products.
The Role of Torsion Springs in Sports Equipment:
Torsion springs play a critical role in various types of sports equipment, including bicycles, tennis rackets, golf clubs, and more. These springs provide the necessary tension and flexibility to enhance performance, improve handling, and optimize power transfer. By incorporating torsion springs, sports equipment manufacturers can ensure superior performance, reliability, and safety for athletes at all levels.
Our State-of-the-Art Manufacturing Process:
1. Collaborative Design: We work closely with sports equipment manufacturers to understand their specific requirements and design torsion springs that precisely meet their needs. Our experienced engineers utilize advanced computer-aided design (CAD) software to create detailed 3D models and prototypes, enabling a seamless transition from concept to production.
2. Material Selection: To ensure the highest quality and performance of our torsion springs, we carefully select materials that meet the demanding requirements of sports equipment. We utilize high-grade steel, stainless steel, or other specialized alloys known for their strength, durability, and corrosion resistance. Our expertise in material selection allows us to tailor springs to accommodate various sport-specific demands.
3. Precise Manufacturing Techniques: Our state-of-the-art production facilities are equipped with advanced machinery and precision manufacturing techniques. Computer-controlled machines accurately form, shape, and manipulate the torsion springs to meet the desired specifications and tolerances. Strict quality control protocols are followed at every stage to ensure consistency in performance and product reliability.
4. Rigorous Testing and Quality Assurance: We subject our products to rigorous testing procedures to guarantee their performance, safety, and durability. Our quality assurance experts conduct comprehensive assessments, including load-bearing capacity tests, fatigue analysis, and wear resistance evaluations. By adhering to international quality standards, we ensure that our products exceed expectations.
Why Choose Us:
1. Extensive Expertise: With years of experience in manufacturing sports equipment springs, we possess extensive knowledge and understanding of the intricate requirements of various sports disciplines. Our team of skilled professionals is committed to delivering superior products tailored to our clients' specifications.
2. Customization Options: We understand that each sport has unique demands, and we offer customized solutions to meet specific requirements. From dimensions to load-bearing capacities, we can tailor our torsion springs to fit various sports equipment designs and maximize performance gains.
3. Performance and Safety Focus: We prioritize the performance and safety of athletes. Our torsion springs undergo stringent testing to ensure they can withstand the rigorous demands of sports activities while providing optimal power transfer, stability, and control. Athletes can have confidence and peace of mind when using equipment fitted with our high-quality torsion springs.
4. Timely Delivery and Support: We value our clients' time and work diligently to maintain efficient production and delivery schedules. Our robust supply chain management ensures prompt delivery without compromising product quality. Our dedicated customer support team is always ready to address any queries or concerns promptly.
Conclusion:
As a leading manufacturer of torsion springs, we are committed to providing athletes and sports equipment manufacturers with reliable, high-performing, and safe products. Through our expertise, advanced manufacturing techniques, and commitment to quality, we have established ourselves as a trusted partner in the sports industry. Contact us today to discuss your sports equipment torsion spring needs and discover how our products can contribute to unlocking performance potential.