Torsion Spring Customization: Meeting Unique Requirements for Optimal Performance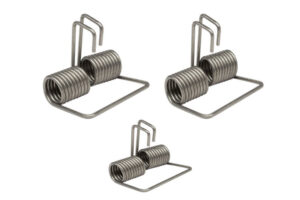 Torsion springs are vital components in various industries, providing rotational force and storing mechanical energy. They offer precise control and are widely used in applications ranging from automotive to aerospace, robotics to manufacturing equipment. However, to achieve optimal performance, it is often necessary to customize torsion springs to meet specific requirements. In this article, we will explore the importance of torsion spring customization and discuss key considerations for achieving desired outcomes.
1. Understanding Torsion Springs:
Torsion springs are helical springs designed to resist torque forces by exerting rotational energy. They consist of tightly wound coils that generate torque when twisted, thus providing rotational force. The design parameters such as wire diameter, coil diameter, and number of coils define the strength, flexibility, and torque characteristics of a torsion spring. Customizing these parameters enables tailoring the spring's performance to suit precise application needs.
2. Addressing Unique Requirements:
Each application has its own set of requirements that demand specific torsion spring characteristics. Customization allows manufacturers to address these unique needs effectively. Some common customization factors include:
a) Torque Requirements: The torque required to perform a particular function may differ significantly among applications. By customizing the geometry and material selection, torsion springs can be designed to deliver the exact torque needed, ensuring optimal functionality.
b) Space Constraints: Limited space within an application may necessitate the customization of torsion springs to meet dimensional restrictions. Custom designs can optimize the space utilization while maintaining the required torque and load-bearing capacity.
c) Environmental Factors: Different environments, such as extreme temperatures, corrosive atmospheres, or high vibration levels, can impact the performance of torsion springs. Customized solutions can incorporate appropriate materials and surface treatments to enhance durability and resistance to environmental factors.
3. Material Selection:
Choosing the right material is paramount in torsion spring customization. Factors such as tensile strength, corrosion resistance, fatigue life, and temperature range must be considered when selecting the material. Commonly used materials include
stainless steel,
carbon steel,
alloy steel,
and non-ferrous alloys like phosphor bronze.
By understanding the application's operating conditions and performance requirements, manufacturers can recommend or develop materials that best suit the specific needs.
4. Manufacturing Processes:
Customization often involves unique manufacturing processes to achieve desired spring characteristics. Specialized techniques like hot winding, cold setting, shot peening, or stress relieving can be employed to enhance the spring's performance, durability, and lifespan. Manufacturers may also utilize advanced computer-aided design (CAD) software and simulation tools to evaluate the customized design's performance prior to production.
Conclusion:
Torsion spring customization plays a crucial role in meeting the diverse needs of modern applications. By tailoring design parameters, material selection, and manufacturing processes, manufacturers can develop torsion springs precisely tuned to deliver optimal performance. Customized torsion springs ensure functionality, longevity, and efficiency while accommodating unique requirements such as torque demands, space limitations, and environmental factors. When seeking torsion spring customization, it is essential to collaborate with experienced spring manufacturers who possess the knowledge and capabilities to deliver tailored solutions for various industries.