Precision and Reliability: Revolutionizing Medical Devices with Torsion Springs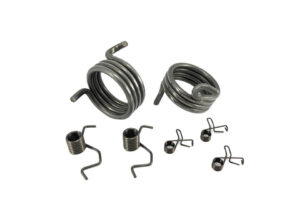 In the realm of medical devices, precision and reliability are of paramount importance. As a trusted manufacturer specializing in medical devices torsion springs, our company takes pride in producing cutting-edge components that play a critical role in enhancing the performance and safety of medical equipment. This article sheds light on the significance of torsion springs in medical applications, their unique characteristics, and how our company is leading the way in this specialized field.
Enhancing Medical Device Functionality:
Medical devices torsion springs serve as vital components within a wide range of medical equipment. These springs are engineered to provide rotational force, enabling smooth movement, precise actuation, and optimal functionality. Whether it's surgical instruments, drug delivery devices, diagnostic equipment, or implantable devices, torsion springs play a pivotal role in ensuring accurate and reliable performance.
The Importance of Precision and Consistency:
When it comes to medical devices, the importance of precision cannot be overstated. Torsion springs must exhibit consistent torque characteristics to ensure accurate and controlled rotation. Our manufacturing processes utilize advanced technology and stringent quality control measures to achieve tight tolerances, resulting in torsion springs that deliver predictable and repeatable performance. This level of precision is crucial in delicate medical procedures where accuracy directly impacts patient outcomes.
Materials and Design Considerations:
Medical devices torsion springs must adhere to strict industry standards, including biocompatibility and resistance to corrosion. Our company utilizes high-quality materials such as medical-grade stainless steel or titanium alloys, chosen for their exceptional strength, durability, and biocompatibility. Additionally, we employ advanced CAD software and simulation techniques to design springs that meet precise specifications, ensuring optimal performance within the intended medical application.
Safety and Reliability:
Patient safety is the primary concern in the medical industry, and torsion springs play a key role in ensuring device reliability. Through extensive testing and quality assurance protocols, our torsion springs are engineered to provide long-lasting performance without compromising safety. Each spring is carefully inspected to meet the highest standards, guaranteeing consistent and reliable operation, even in demanding medical environments.
Customization and Collaboration of Medical Devices Torsion Spring:
We recognize that medical applications vary widely, with unique requirements for each device. Our company actively collaborates with medical device manufacturers to understand their specific needs and develop tailored springs accordingly. By providing customized solutions, we ensure that our customers attain optimal functionality and seamless integration within their medical devices.
Regulatory Compliance:
As a manufacturer of medical devices torsion springs, we understand the importance of regulatory compliance. Our production processes adhere to stringent quality management systems, ensuring that our products meet industry standards and comply with applicable regulations such as ISO 13485. Working with us guarantees that you will receive torsion springs manufactured under strict control measures, meeting the necessary certifications and standards.
Medical Devices Torsion Spring Conclusion:
In the complex and evolving world of medical devices, the role of torsion springs cannot be overstated. These precision-engineered components enable the smooth and accurate operation of countless medical devices, contributing to improved patient outcomes and enhanced healthcare experiences. Our company, with its dedication to excellence, cutting-edge manufacturing capabilities, and customer-centric approach, stands ready to revolutionize the medical device industry with high-quality springs that embody precision, reliability, and safety. Together, let us embrace innovation and transform the future of medical technology.