Compression Spring Design Guide: Key Considerations and Best Practices
Introduction: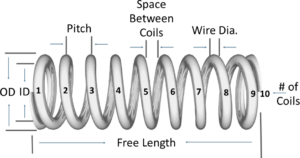 Compression springs are widely used in various industries, ranging from automotive and aerospace to household appliances and medical devices. Designing a compression spring requires careful consideration of several factors to ensure optimal performance and longevity. In this post, we will provide a comprehensive design guide for compression springs, including key considerations and best practices to follow when designing these essential components.
1. Understanding the Application:
Before diving into the design process, it is crucial to thoroughly understand the application in which the compression spring will be used. Factors such as load requirements, space limitations, temperature variations, and environmental conditions must be considered to determine the appropriate design parameters.
2. Material Selection:
Choosing the right material for a compression spring is vital for its overall performance and durability. Common materials used include carbon steel, stainless steel, and various non-ferrous alloys. Factors to consider when selecting a material include strength requirements, fatigue resistance, corrosion resistance, and temperature stability. Consultation with a professional spring manufacturer can help in determining the most suitable material for your specific application.
The mechanical properties of spring materials
3. Wire Diameter and Coil Configuration:
The wire diameter and coil configuration play a significant role in the spring's performance. Thicker wire diameters provide higher strength and load-bearing capacity, while thinner diameters offer greater flexibility. The coil configuration, such as open-ended or closed-ended, will depend on the application's specific requirements. It is essential to strike a balance between the desired load and the available space for installation.
Calculation formula of compression spring
4. Solid vs. Hollow Springs:
In some cases, hollow compression springs may be preferred over solid springs due to weight considerations or specific applications. Hollow springs can offer advantages such as reduced material costs, decreased overall weight, and improved heat dissipation. However, they may have different stress distribution characteristics and may require additional design considerations to ensure proper functionality.
5. End Configurations:
The end configurations of a compression spring are critical for its proper installation and performance. Common end configurations include squared ends, ground ends, or various types of hooks. It is essential to consider the application's requirements and the available space for end attachments when deciding on the appropriate end configuration.
6. Design Optimization:
Optimizing the design of a compression spring involves adjusting various parameters to achieve the desired performance and cost-effectiveness. This includes selecting the appropriate spring index (ratio of mean diameter to wire diameter), coiling pitch, and adjusting the number of active coils. Design optimization should balance factors such as load capacity, stress levels, spring rate, and available space constraints.
7. Quality Assurance and Testing:
Ensuring the quality and reliability of compression springs is crucial. As part of the design process, it is essential to establish quality control measures and perform necessary testing to verify the spring's performance under the specified conditions. This may involve conducting load testing, stress testing, or fatigue testing to validate the spring's capabilities.
Compression Spring Design Guide Conclusion:
Designing a compression spring requires careful consideration of various factors to ensure optimal performance, reliability, and longevity. This design guide provides an overview of the key considerations and best practices to follow when designing compression springs. By understanding the application, selecting the right material, optimizing the design, and conducting appropriate testing, you can create compression springs that meet your specific requirements and deliver excellent performance in your intended applications.