Confined-Space Conical Compression Springs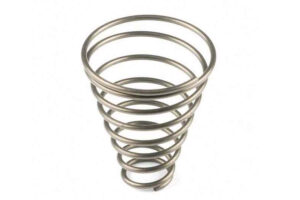 In the world of mechanical engineering, precision and reliability are paramount. When it comes to springs used in confined spaces, such as in automotive systems, medical devices, or precision machinery, finding a reputable manufacturer is essential. That's where our company, a professional manufacturer of confined-space conical compression springs, stands out. With our commitment to quality, precision engineering, and customer satisfaction, we have earned a prominent position in the industry.
Conical Compression Springs Sample information
Material: Stainless steel 304
Size: Upper Dia 12cm, lower dia 3cm,height 10cm
Wire Diameter: 1.5mm
Finish:tempering and Oxidation blackening
Market: Eastern Europe
About us
At our manufacturing facility in China, we boast a team of highly skilled engineers and technicians who possess extensive knowledge and experience in spring design and production. We understand the unique requirements of confined-space applications and have perfected the art of creating conical compression springs that excel in these environments.
Customized Solutions of Confined-Space Conical Compression Springs
| | |
| --- | --- |
| Product name: | Custom-made compression spring |
| Wire diameter: | 0.05mm-25mm |
| Packing: | Inner-Plastic Bag; Outer -Standard Carton Box,pallet |
| Kinds: | Compression,Extension,Torsion,Flat Coil Spring Etc |
| Available Materials | Carbon steel(SWC), cold roller steel, stainless steel(SUS), beryllium copper, phosphor copper, brass, Music wire or piano wire(SWP), 60Si2Mn, 55CrSi etc. |
| Specification: | Customized |
| Surface Treatment: | Hardening, Carburizing, High Frequency,Degreasing,Polish,Anodize,Sand blasting,Powder Coating,Vacuum Plating,Nickel, Zinc, Chorme,Tin, |
| Quality control: | RoHS tester , callipers , salt Spary tester , 3D coordonate measuring instrument |
Every project has its specific needs, and we excel at providing customized solutions. We work closely with our clients to understand their requirements in detail and offer tailored designs and specifications accordingly. Our team is proficient in designing springs that guarantee optimal performance, durability, and safety, all while minimizing space constraints.
Quality Assurance and Certifications:
We understand the critical role that confined-space conical compression springs play in various applications. Hence, we prioritize quality in every aspect of our manufacturing process. By adhering to ISO 9001 standards and stringent quality control protocols, we ensure that our products consistently meet or exceed customer expectations. Additionally, we collaborate with renowned testing laboratories to conduct rigorous inspections and tests to validate the performance and reliability of our springs.
Yoour reliable parter in China
As a leading manufacturer of confined-space conical compression spring in China, we take immense pride in our craftsmanship, attention to detail, and commitment to delivering superior-quality products. With our extensive expertise, advanced manufacturing techniques, and dedication to customer satisfaction, we strive to be your trusted partner for all your confined-space spring requirements. Contact us today to learn more about our capabilities and discuss how we can support your next project.