Creative Wire Paper Clips: Add Some Fun to Your Daily Life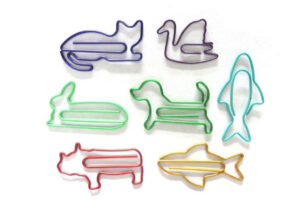 As a professional wire bending manufacturer, we always strive to bring some creativity to our products. Our latest invention is the Creative Wire Paper Clips, which is not only useful but also adds some fun to your daily life.
What are Creative Wire Paper Clips?
They are a new type of paper clip made of high-quality metal wire. Unlike traditional paper clips, they come in various shapes and sizes, such as animals, plants, and geometric figures. With these clips, you can easily organize your papers and documents while adding some personality to your workspace.
Why Choose Our Paper Clips?
Firstly, Creative Wire Paper Clips are not only practical but also aesthetically pleasing. They can make your desk more colorful and lively, which can boost your mood and creativity. Secondly, they are durable and reusable, which is more environmentally friendly than disposable plastic clips. Thirdly, they can also be used as bookmarks, memo holders, and even as decorations.
How to Use Paper Clips?
Using Our Paper Clips is easy and fun. You can simply clip them onto your papers or documents just like traditional paper clips. However, you can also try to make some DIY projects with them, such as creating a wire sculpture or a photo holder. The possibilities are endless, and you can always explore more ways to use them.
Where to Get Creative Wire Paper Clips?
As a professional wire bending manufacturer, we offer a wide range of Paper Clips with different shapes and sizes. You can order them online or contact us for customized designs. We guarantee the quality of our products and provide excellent customer service.
| | |
| --- | --- |
| Type | Paper Clip |
| Material | PET coated metal material ,Steel wire +rose gold /gold plated /painted /colorful plated . |
| Size: | 30-35mm or custom-design |
| Magnetic | Yes |
| Brand Name | OEM |
| Wire thickness | 1.0mm, 1.2mm ,1.5mm ,2.0mm |
Conclusion:
In conclusion, they are not only paper clips but also a way to express your personality and creativity. They can make your daily life more fun and enjoyable, while also being practical and eco-friendly. So why not try them out and add some color to your workspace?