High-Quality Oil Tempered Torsion Springs – Your Ultimate Choice!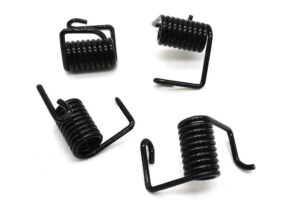 Are you looking for high-quality torsion springs? Look no further! We are a professional manufacturer of oil tempered torsion springs that are durable, reliable, and of the highest quality. Our springs are perfect for a wide range of applications and industries. Read on to find out more about our products and what sets us apart from the competition.
What are oil tempered torsion springs?
They are a type of spring that is made from high-strength wire that has been heat-treated and tempered with oil. This process gives the wire additional strength and durability, making it perfect for use in high-stress applications. They are commonly used in a variety of industries, including automotive, aerospace, and manufacturing.
Why choose us as your manufacturer?
At our company, we take pride in producing high-quality oil tempered torsion springs that meet the strictest standards of quality and durability. We use only the finest materials and employ the latest manufacturing techniques to ensure that our springs are of the highest quality and meet the needs of our customers.
Our team of experts is dedicated to providing excellent customer service and support, ensuring that your experience with us is stress-free and enjoyable. We work closely with our clients to understand their unique needs and requirements, and we are always ready to offer advice and guidance on the best products for their specific application.
What sets our oil tempered torsion springs apart?
Our oil tempered torsion springs are designed to provide exceptional performance and durability, even in the most demanding applications. Our springs are made from high-quality wire that has been heat-treated and tempered with oil, ensuring that they are capable of withstanding high levels of stress and strain.
In addition, our springs are tested rigorously to ensure that they meet the highest standards of quality and reliability. We use advanced testing equipment to measure the performance of our springs, ensuring that they meet or exceed the standards set by our clients and industry regulators.
Torsion Spring Manufacturer
| | |
| --- | --- |
| Material | Carbon steel(SWC), Alloy steel, SEA9260/ 9254/ 6150/ SUP9/ SUP10/ SUP12 /, 51CrV4, stainless steel, music wire/piano wire(SWP);beryllium copper etc. |
| Wire diameter or thickness | 0.2~85mm |
| Finish | Zinc, Chorme, Nickel, Silver, Gold, Tin, Powder coating, Oxide black or customized |
| Testing equipment | CMM;Tool microscope;multi-joint arm;Automatic height gauge;Manual height gauge;Dial gauge;Marble platform;Roughness measurement |
| Application | Industrial/ auto/ Motorcycle/ electronics/ electric power/ Toys/ Sports/ Machinery equipment etc. |
| Springs | |
| Quality certification | IATF 16949:2016, ISO 14001:2015, ISO9001:2015, OHSAS 18001:2007,ROHS |
Conclusion:
If you are looking for high-quality oil tempered torsion springs, look no further than our company. We are committed to providing our customers with the best products and services possible, and we will work tirelessly to ensure that your needs are met. Contact us today to learn more about our products and how we can help you with your torsion spring needs!