Spring for Hair Clip – The Perfect Solution for Your Hair Accessory Needs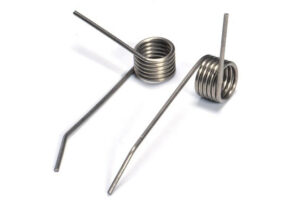 Spring for hair clip is an essential component in the making of hair accessories. These small yet important metal springs play a crucial role in keeping the hair clips in place. As a professional manufacturer of spring for hair clip, we take pride in providing our customers with high-quality products that are tailored to meet their specific needs.
Section 1: High-Quality Materials
The first factor that sets our spring for hair clip apart from others in the market is the high-quality materials we use. We use only the finest materials to ensure that our springs are durable and long-lasting. Our springs are made from high-grade stainless steel, which has excellent resistance to corrosion and rust.
Section 2: Customizable Designs
At our manufacturing facility, we offer a variety of customizable designs to meet the unique needs of our customers. We can produce springs in a range of sizes, shapes, and colors to suit your exact requirements. Whether you need a small spring for a tiny hair clip or a larger spring for a more substantial hair accessory, we've got you covered.
Section 3: Competitive Pricing
We understand that price is always a consideration when it comes to manufacturing hair accessories. That's why we offer competitive pricing for our spring for hair clip products. We believe that quality should not come at a premium, and we strive to offer our customers the best value for their money.
Section 4: Customer Service
At our company, we value our customers and provide excellent customer service. We understand that communication is critical, and we always make sure that our customers receive prompt and professional responses to any questions or concerns they may have.
Torsion Spring Manufacturer
| | |
| --- | --- |
| Material | Carbon steel(SWC), Alloy steel, SEA9260/ 9254/ 6150/ SUP9/ SUP10/ SUP12 /, 51CrV4, stainless steel, music wire/piano wire(SWP);beryllium copper etc. |
| Wire diameter or thickness | 0.2~85mm |
| Finish | Zinc, Chorme, Nickel, Silver, Gold, Tin, Powder coating, Oxide black or customized |
| Testing equipment | CMM;Tool microscope;multi-joint arm;Automatic height gauge;Manual height gauge;Dial gauge;Marble platform;Roughness measurement |
| Application | Industrial/ auto/ Motorcycle/ electronics/ electric power/ Toys/ Sports/ Machinery equipment etc. |
| Springs | |
| Quality certification | IATF 16949:2016, ISO 14001:2015, ISO9001:2015, OHSAS 18001:2007,ROHS |
Conclusion:
In conclusion, if you are looking for a reliable and professional manufacturer of spring for hair clip, look no further than our company. Our high-quality materials, customizable designs, competitive pricing, and exceptional customer service make us the perfect partner for all your hair accessory needs. Contact us today to learn more about our products and services.