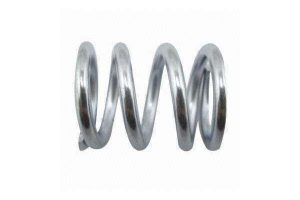 Compression spring Supplier
We make all kinds of custom-made compression spring in different material.This Stainless steel compression springs are made for our oversea customer. We make the products according to customer's drawing or sample or detail instructions.Our factory have many years of spring and wire forming production technology experience and passed ISO9001:2008 and SGS certifications.
Stainless steel compression spring
Compression spring Material
Carbon steel ,Titanium ,Iron,Cr5,SUS304/SUS316/SUS302,55Si2Mn,60Si2MnA,55SiMnVB,55SiMnMoV,
60CrMn,60CrMnB,JIS:SUP G 4081; SW G 3521; SWP G 3522;SUS—WH G 4309; BsW H 3521 ;HSWS H 3721;
PBW H 3751; BeCuW H 3803 11.Kos:SUS304; SUS306; SUS316/631,KLS:SWP-A/B ;SWPA/B/C 13.DSR:SUS-304BR; SUS-304-Co ;SUS-316;SUS63151;SWP-A/B;SW-A/BC ;Nickel plated carbon line (NI-SWC) Nickel
plated steel wire harp ;flat wire ;square wire15.SWC:45#,70#,65#Mn;55CrSiA/50CrVA/60SiCrA;60Si2MnV/55CrSiA18.SWC70/SWC80;NASWIRE:SUC301/304/316/613 20.SHINKO WIRE:SWU-F;C5191W-H Full hard phosphorus copper wire 22.Nickel plated high carbon steel wire,Nickel plated stainless steel wire;Rectangular wire: 70#.65M.45#;steelstrip:65Mn,60Si2Mn,78A,20Cr,Gcrv15,50CrV,SK4,SK5,SK7;SSCoil:201/301/420M/304/316L/430;alloy spring steel ;65Mn steel spring Music wire.
Surface Treatment
Zn-plating;Ni-plating;Cr-plating;Tin-plating;Copper-plating;the wreath oxygen resin spraying ;the heat disposing;sand blasting;black oxide coating;shot blasting;Setting processing;painting;powdering;color zinc-plated;blue zinc-plated;black zinc-plated;Rust Preventive oil;Titanium alloy galvanized;silver plating;plastic;electroplating;hydrogen relief treatment;electronic coating
Application
Automotive;motorcycle;instrument;electrical equipment;Household appliances6.furniture;mechanical equipment;daily living equipment;toy;Electronic sports equipment;remote control;medical device;calculator;lelectronic scale;bicycle;washing machine;vacuum cleaner;switch;fan;socket;lighter;mechanical watch;ergometer;spring scale
Equipment Capabilities:
CNC Lathes/Lathes/Automatic Lathes/CNC Shearing Machines/CNC Bending Machines/Machining Center/Grinding Machines/Milling Machines/Turning Machines/ Welding Machines/Cutting machines/Wire-Cuts/Laser Cuts/Punching Machines/Ditching machines/Polishing machines/Combined Processing Machines
and other specialized processing equipments etc.
Inspection tooling:
Outer micrometer, inside micrometer(machine),digimatic micrometer,
internal micrometer, mechanical caliper , vernier caliper ,caliper(digital),
caliper(machine),caliper(dial),diameter scale, depth micrometer, digital caliper,
altitude gauge, electric balance),2D measurement inspection instruments etc.
QC:
1.Incoming material will be checked carefully before production.
2.Strict processing quality control
3.100% inspection before shipment.
Packing:
Bubble Bag/Polyethylene bag/Carton/Wooden Case/Air Cushion Film bags etc.
If you want to send an enquiry to us, you must have some datas of the spring, such as:
1.wire diameter
2. the dimension of the spring inner diameter and outer diameter,and include the tolerance
3.free length of the spring
4. Total coils or active coils of the spring
5.the materials
6. Surface treatment
7. what kind of the spring sharp,and which ends of the spring you want?