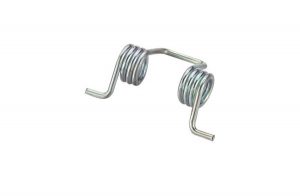 Custom torsion spring
We are professional custom-made torsion spring manufacturer in China.We have many years of spring production technology experience and Assumes responsibility for all product quality problems with 100 percent unconditional return or reproduction.We provide OEM Services with Advanced machines(CNC machine, compression spring machine, stamping machine and forming machine).
Custom torsion spring Manufacturer
Torsion springs can either have a left-hand or right-hand helix. They are made to give a force and torque when one leg is turned relative the other.
Our torsion springs are made in dimensions from 0.03- 26 millimeter and we select wire diameter, spring body diameter, length and pitch to suit your requirements.
1. wire dia
2. outside dia
3. total length of the material
4. active coil
5. degree
6. material
7. surface treatment(zinc plated, black coated, Dacromet)
8. direction of turning
9. spring force
Metal spring Manufacturer
Material

Finish
A. Carbon steel(SWC)

B. Cold roller steel

C. Stainless steel(SUS)

D. Beryllium copper

E. Phosphor copper

F.  Brass

G. Music wire or piano wire(SWP)

H. 60Si2Mn, 55CrSi etc.

A. Blacking,

B. Zinc

C. Nickel

D. Chrome

E. Silver

F. Gold plating

G. Powder coated etc,

Wire diameter(thickness)
Application
               0.15mm to 50mm
Electronic products/Children toys,

Locks/Watches/Glasses

Baby carriage/Bicycle/Kitchen appliances

Cameras/Printers/Office equipment

Precision equipment and various kinds of vehicles
Our service
A. Competitive price
1.Small order can enjoy the price of big order.
2.Free sample +lower express freight cost.
B. High quality
1.Manufacturing acc to national or international standard.
2. Strict quality control.
3. The third party certification.
C. First class service
1.One stop sourcing
all standard fasteners you can find here, customized fasteners or OEM service are also OK, order tracking;
2. Professional service team;
3. More than 20 years experience.
D. Good guarantee (Less risk)
1. We are Alibaba trade assurance company. You can buy our products by Alibaba insurance order service, which is set up for customers' benefits. You never worry about the loss of money .
2. For small order, you can pay by Paypal.