The Power of Large Torsion Springs: How They Work and What You Need to Know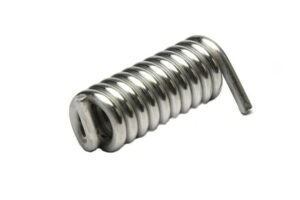 When it comes to mechanical engineering, springs are essential components that play a crucial role in a wide range of machines and equipment. Among many types of springs, torsion springs are particularly important for their unique ability to store and release energy through twisting motion. In this post, we will explore the key features of large torsion springs, how they work, and what you need to know to use them effectively.
What are Large Torsion Springs?
They are springs that are designed to handle heavy loads and provide strong resistance against twisting forces. Typically made of high-quality steel or other durable materials, these springs are used in a variety of applications, including automotive, aerospace, and industrial machinery.
How do Large Torsion Springs Work?
The basic principle behind torsion springs is that they store energy when twisted and release it when untwisted. When a torsion spring is twisted, it creates a force that resists the twisting motion. This force is proportional to the amount of twist applied to the spring and the spring's material properties, such as its stiffness and diameter.
When the torsion spring is released, it returns to its original position, releasing the stored energy. This energy can be used to power a variety of mechanical systems, from simple levers and pulleys to complex machinery.
What are the Advantages of Large Torsion Springs?
They offer several advantages over other types of springs. First, they are highly durable and can withstand heavy loads and harsh environments. Second, they provide a high level of resistance to twisting forces, making them ideal for applications that require strong torsion resistance. Finally, they are relatively easy to install and maintain, making them a cost-effective choice for many industrial applications.
Applications of Large Torsion Springs
They are used in a wide range of applications, including:
1. Automotive: They are used in vehicle suspensions to provide a smooth ride and absorb shocks and vibrations.
2. Aerospace: They are used in aircraft landing gear to provide shock absorption during takeoff and landing.
3. Industrial Machinery: They are used in a variety of industrial machinery, including presses, stamping machines, and conveyor systems.
4. Household Appliances: They are used in household appliances such as washing machines, dryers, and garage doors.
Torsion Spring Manufacturer
| | |
| --- | --- |
| Material | Carbon steel(SWC), Alloy steel, SEA9260/ 9254/ 6150/ SUP9/ SUP10/ SUP12 /, 51CrV4, stainless steel, music wire/piano wire(SWP);beryllium copper etc. |
| Wire diameter or thickness | 0.2~85mm |
| Finish | Zinc, Chorme, Nickel, Silver, Gold, Tin, Powder coating, Oxide black or customized |
| Processing Craft | Material purchased-Producing-First testing-Coiling-Inspection-Heat treatment-Cleaning-Surface treatment-Final testing-Packing-Shipping |
| Application | Industrial/ auto/ Motorcycle/ electronics/ electric power/ Toys/ Sports/ Machinery equipment etc. |
| Springs | |
| Quality certification | IATF 16949:2016, ISO 14001:2015, ISO9001:2015, OHSAS 18001:2007 |
Conclusion:
In conclusion, large torsion springs are powerful and versatile components that play an important role in many mechanical systems. Whether you are designing a new machine or repairing an existing one, understanding the principles of torsion springs and their applications can help you choose the right spring for your needs. By selecting a high-quality large torsion spring and using it effectively, you can improve the performance and reliability of your mechanical systems, and ensure their long-term success.