Torsion Spring for Farm Machines: A Vital Component for Efficient Agriculture
Keywords: Torsion Spring, Farm Machines, Agriculture, Efficiency, Durability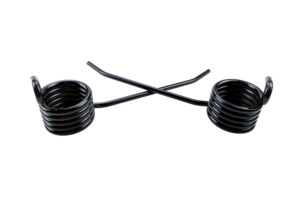 As the world population continues to grow, the demand for food production increases day by day. With a limited amount of arable land available, efficient agriculture has become more important than ever before. One of the key factors in achieving this efficiency is the use of torsion springs in farm machines. In this post, we will explore the importance of torsion springs in agriculture and how they contribute to the overall efficiency and durability of farm machinery.
What is a Torsion Spring?
A torsion spring is a mechanical component that stores energy by twisting or rotating around its axis. It is commonly used in a wide range of industrial applications, including farm machinery. Torsion springs are designed to resist twisting forces and can be found in many different shapes and sizes. They are made of various materials such as steel, stainless steel, and titanium.
Importance of Torsion Springs in Farm Machines
Farm machines are designed to perform a variety of tasks such as planting, cultivating, and harvesting crops. These machines are subjected to a lot of stress and strain during their operation, which can cause wear and tear over time. Torsion springs play a crucial role in ensuring that these machines operate efficiently and last longer.
One of the main advantages of torsion springs is their ability to absorb shock and vibration. Farm machines often operate on rough terrain, and the constant jolting can cause damage to the machine's components. Torsion springs are designed to absorb these shocks and reduce the amount of stress that is transferred to other parts of the machine. This, in turn, reduces the risk of premature failure and extends the lifespan of the machine.
Another benefit of torsion springs is their ability to provide consistent force. In farm machines such as seeders and planters, torsion springs are used to apply pressure to the seeds as they are planted. This pressure needs to be consistent to ensure that the seeds are planted at the correct depth and spacing. Torsion springs provide this consistent force, which helps to ensure that the crops grow evenly and produce a high yield.
Durability is also an important factor in agriculture. Farm machines are often used in harsh environments, and their components need to be able to withstand these conditions. Torsion springs are made of high-quality materials that are designed to resist corrosion and other forms of damage. This means that they can withstand exposure to the elements and continue to function effectively even after years of use.
Torsion Spring Manufacturer
| | |
| --- | --- |
| Material | Carbon steel(SWC), Alloy steel, SEA9260/ 9254/ 6150/ SUP9/ SUP10/ SUP12 /, 51CrV4, stainless steel, music wire/piano wire(SWP);beryllium copper etc. |
| Wire diameter or thickness | 0.2~85mm |
| Finish | Zinc, Chorme, Nickel, Silver, Gold, Tin, Powder coating, Oxide black or customized |
| Testing equipment | CMM;Tool microscope;multi-joint arm;Automatic height gauge;Manual height gauge;Dial gauge;Marble platform;Roughness measurement |
| Application | Industrial/ auto/ Motorcycle/ electronics/ electric power/ Toys/ Sports/ Machinery equipment etc. |
| Springs | |
| Quality certification | IATF 16949:2016, ISO 14001:2015, ISO9001:2015, OHSAS 18001:2007,ROHS |
Conclusion
In conclusion, torsion springs are a vital component in farm machines. They provide a range of benefits that help to improve the efficiency and durability of these machines. By absorbing shock and vibration, providing consistent force, and being durable enough to withstand harsh environments, torsion springs contribute significantly to the success of modern agriculture. For farmers looking to improve their productivity and reduce downtime, investing in high-quality torsion springs is a smart choice.