The Role and Importance of Automotive Torsion Springs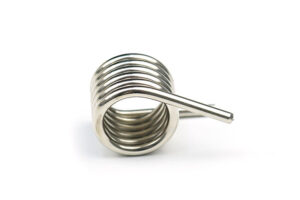 It play a crucial role in ensuring smooth and reliable operation within various components of a vehicle's suspension system. These mechanical devices are designed to store and release rotational energy, providing stability and absorbing shocks and vibrations. This article aims to provide an in-depth understanding of automotive torsion springs, their advantages, materials used, manufacturing process, and applications across the automotive industry.
1. Advantages of Automotive Torsion Springs:
Torsion springs offer several advantages that make them a preferred choice for automotive applications:
Durability: Torsion springs are known for their high durability and ability to withstand repeated cycles without failure, making them ideal for heavy-duty automotive usage.
Compact Design: These springs can be designed in compact shapes, allowing them to fit into tight spaces within the suspension system while maintaining their functionality.
Customization: Manufacturers can easily customize torsion springs in terms of shape, dimensions, and material properties to suit specific automotive requirements.
Cost-effective: Torsion springs are relatively cost-effective compared to other suspension components, making them an attractive choice for automotive manufacturers.
2. Materials Used in Automotive Torsion Springs:
Various materials are utilized in the production of torsion springs, depending on the desired mechanical properties and environmental conditions. Common materials include:
Spring Steel: High-carbon spring steel is widely used due to its excellent strength, fatigue resistance, and flexibility.
Stainless Steel: This material offers superior corrosion resistance, making it suitable for applications in harsh environments or exposed to moisture or chemicals.
Alloy Steel: Alloy steels are favored for their enhanced toughness and resistance to wear and fatigue, making them suitable for demanding automotive applications.
Non-ferrous Alloys: Copper-based alloys or nickel alloys are used when electrical conductivity or resistance to high temperatures is necessary.
3. Manufacturing Process:
The manufacturing process for Automotive Torsion Springs involves several steps, ensuring that the final product meets specific design requirements and performance characteristics:
Wire Selection: The appropriate wire material and diameter are chosen based on the desired load-bearing capacity and functional requirements.
Wire Forming: The wire is shaped into the desired coil configuration using specialized machinery, such as CNC coiling machines or traditional spring winding equipment.
Heat Treatment: The coiled wire is subjected to heat treatment processes, such as quenching and tempering, to improve its mechanical properties and durability.
Surface Treatment: Coatings or plating can be applied to increase corrosion resistance and reduce friction.
Quality Control: Strict quality control measures are implemented throughout the manufacturing process to ensure that the torsion springs meet dimensional accuracy, load-bearing capacity, and fatigue life requirements.
4. Applications of Automotive Torsion Springs:
They find extensive usage in various components, including:
Suspension Systems: Torsion bars are commonly used in independent suspension systems to provide stability and absorb shocks, enhancing the vehicle's handling and ride quality.
Brake Systems: Torsion springs play a crucial role in brake shoe actuation, effectively retracting the brakes after they have been engaged.
Trunk Lids and Hoods: Torsion springs are utilized to counterbalance the weight of trunk lids and hoods, allowing smooth and controlled opening and closing operations.
Seat Adjustment Mechanisms: Torsion springs enable seat adjustments by providing the necessary torque to move the seatback and enhance occupant comfort.
Convertible Tops: Torsion springs are used in convertible tops to assist with raising and lowering the roof effortlessly.
Conclusion:
Automotive torsion springs are an integral part of modern vehicles, contributing to their safety, comfort, and overall performance. With their compact design, customization options, and cost-effectiveness, these mechanical devices continue to be widely employed in various automotive applications. Manufacturers must carefully select the appropriate materials, follow precise manufacturing processes, and maintain strict quality control to ensure reliable and durable torsion springs that meet the demanding requirements of the automotive industry.