Custom Torsion Coil Spring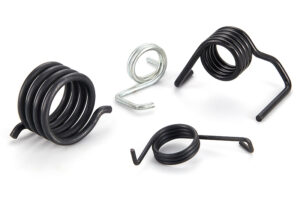 As you know well,Custom Torsion Coil Spring is widely used for home appliance,Furnitures,Industry and so on.We can produce all kinds of custom torsion spring at stainless steel,steel ,music wire and others .
Meanwhile, we also offer following springs.
All the above springs are used in electronic switch, automatic water pump switch, air compressor, ice compressor, automobile motorcycle, diesel engine, oil pump, sewing machine.
With strong production capacity, we can fully meet customer order demand, our production and testing equipment, advanced technology, production workers are very skilled in product technology, is the company to produce products of the fundamental guarantee.
We have the most advanced computer spring machine, all kinds of large, medium and small automatic spring coiling machine, computer CNC grinding machine and advanced C C Mesh quenching furnace, all kinds of spring tension and compression testing machine, spring fatigue testing machine.
The company with scientific management system, strict testing, unswerving efforts, design and production of first-class products, and through theI ATF16949 :2016 quality management system certification, while achieving results, the staff and workers of the company also deeply feel the fierce market competition in the current society, ,and realize that only continuous improvement, continuous improvement of product quality.
Custom Torsion Coil Spring Services
Material

Carbon steel(SWC),Alloy steel SEA9260/9254/6150/SUP9/SUP10/SUP12,51CrV4,stainless steel,Music wire/piano wire(SWP);beryllium
copper etc..

Wire diameter or thickness

0.1~9.0mm

Process

CNC Spring

Surface processing

Zinc,Chorme,Nickel, Silver,Gold, Tin,Powder coating,Oxide black or customzied

Application

Industrial/auto/Motorcycle/electronics/electric power/Toys/Sports goods/Machinery equipment etc.

Company area

6000 square

Quality Certification

IATF 16949:2016

Payment method

T/T,L/C or other payments

Packing

Inner packing with plastic bags,and then carton boxes for outer packing,at last wooden or plastic pallets for request

Shipment

By sea/air/UPS/TNT/Fedex express etc.
How TO Order
lease send drawings or samples detailing all dimensions and specifications. You can refer to the Product Description

If you do not have detailed specifications, you can also provide any related requirements and contact us directly by email or Skype.

We will reply you within 24 hours, including price, material, process specification, lead time ;sample lead time;trade terms, etc.

Step3 

Discuss & Reach Agreement.

IF you have any questions,we can discuss it to find a better way to solve the problem. In the hope that we can finally reach an agreement

we produce samples and send them to you for confirmation or improvement.

If you think the sample is all right, then place your order and pay a 30% deposit

we do mass production and keep in touch with you.

When the goods is done, we deliver the goods as your request and  You pay us the balance

Step8 

 After-sales services

We follow up the after-sales services, any defectives will be refunded based on  technical reports.