Unlock the Secret of Door Lock Torsion Spring – How It Works and Why It Matters"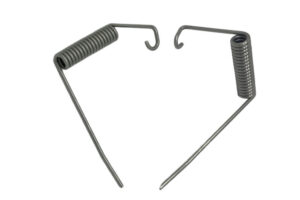 Door locks are essential in keeping our homes, offices, and other buildings secure. But have you ever wondered how they work? The answer lies in the door lock torsion spring. In this article, we'll explore the function of this small but crucial component and why it matters in securing your property.
What is a Door Lock Torsion Spring?
It is a type of coiled spring that stores mechanical energy when twisted. It is commonly used in door locks to create the necessary tension to keep the lock mechanism in place. When you turn the key to lock or unlock a door, the spring creates the force needed to move the locking mechanism.
How Does Door Lock Torsion Spring Work?
The torsion spring is typically located inside the lock cylinder and is connected to the locking bolt. When you turn the key, the torsion spring is twisted, creating energy that is stored in the spring. As the spring unwinds, it releases the stored energy, which moves the locking bolt into or out of position.
Why Is It Important?
The door lock torsion spring is a critical component in the lock mechanism. Without it, the lock would not be able to function properly, and your property would be vulnerable to intruders. The spring creates the tension needed to keep the lock in place, ensuring that it cannot be easily picked or forced open.
Maintenance and Replacement:
Like any other mechanical component, the door lock spring can wear out over time. Regular maintenance is essential to ensure that the lock is functioning correctly. If you notice that your lock is becoming difficult to turn or is not functioning correctly, it may be time to replace the spring.
Torsion Spring Manufacturer
Material

Carbon steel(SWC), Alloy steel, SEA9260/ 9254/ 6150/ SUP9/ SUP10/ SUP12 /, 51CrV4, stainless steel, music wire/piano wire(SWP);beryllium copper etc.

Wire diameter or thickness

0.2~85mm

Finish

Zinc, Chorme, Nickel, Silver, Gold, Tin, Powder coating, Oxide black or customized

Door Lock Torsion Spring Processing

Material purchased
Producing
First testing
Coiling
Inspection
Heat treatment
Cleaning
Surface treatment
Final testing
Packing
Shipping

Application

Industrial/ auto/ Motorcycle/ electronics/ electric power/ Toys/ Sports/ Machinery equipment etc.

Springs

Quality certification

IATF 16949:2016, ISO 14001:2015, ISO9001:2015, OHSAS 18001:2007
Conclusion:
The door lock torsion spring may be small, but it plays a vital role in keeping your property secure. Understanding how it works and why it matters can help you appreciate the importance of proper maintenance and replacement. Keep your locks in good condition, and you can rest easy knowing that your property is safe and secure.