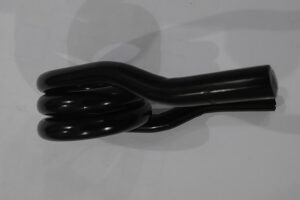 Electrophoretic Torsion Spring
Item: Custom-made Electrophoretic Torsion Spring according to samples.
Type: Torsion Spring
Wire diameter:1.2mm
Material: Steel 72A
Height: 8cm
Width: 5cm
Finish: Black Electrophoretic
Market:Czech Republic
Package: poly-bags,then in carton and then in pallet
Note: the sample we show here is for reference, not for sale.This is custom-design items
Electrophoretic Torsion Spring Manufacturer
At our company, we take immense pride in our expertise as a professional manufacturer of Electrophoretic Torsion Springs. With years of experience and cutting-edge technology, we are dedicated to providing high-quality torsion springs that meet the demanding requirements of various industries. In this post, we will delve into the key features and benefits of our Electrophoretic Springs, highlighting why they are a top choice for precision and performance.
1. Unparalleled Precision:
Precision is paramount when it comes to torsion springs, and our Electrophoretic Springs excel in this aspect. We utilize advanced CNC machining techniques and state-of-the-art equipment to ensure the highest level of accuracy in manufacturing our springs. This precision guarantees optimal performance and minimizes the risk of failure or malfunction.
2. Customized Solutions:
We understand that different industries have specific needs when it comes to Electrophoretic Torsion Spring. That's why we offer tailored solutions to meet unique requirements. Our expert team works closely with clients, taking into account factors such as load capacity, environmental conditions, and application specifications to design and produce springs that perfectly match their needs.
OEM/ODM

Custom Torsion Spring

Material

Carbon steel(SWC),Alloy steel SEA9260/9254/6150/SUP9/SUP10/SUP12,51CrV4,stainless steel,

Music wire/piano wire(SWP);beryllium copper etc.

Wire diameter or thickness

0.1-20mm

Process

Material purchased-Producting-First Testing-Coiling-Inspection-Heat Treatment-Cleaning-Surface Treatment-Final testing-Packing-Shipping

Finish

Zinc,Chorme,Nickel, Silver,Gold, Tin,Powder coating,Oxide black or customzied

Application

Industrial/auto/Motorcycle/electronics/electric power/Toys/

Sports goods/Machinery equipment etc.
3. Enhanced Durability:
Electrophoretic Torsion Springs manufactured by us undergo a specialized coating process that enhances their durability. The electrophoretic coating provides excellent corrosion resistance, ensuring the springs remain highly functional even in harsh environments. This increased durability translates into cost savings for our clients by reducing the need for frequent replacements and maintenance.
4. Reliable Performance:
When it comes to critical applications, reliability is non-negotiable. Our Electrophoretic Torsion Springs are designed to deliver consistent and reliable performance. We strictly adhere to quality control standards throughout the manufacturing process, ensuring that each spring meets rigorous specifications. This commitment to excellence guarantees that our springs provide the desired performance and peace of mind to our customers.
5. Wide Range of Applications:
The versatility of Electrophoretic Springs makes them suitable for a wide range of applications. They find extensive use in industries such as automotive, aerospace, medical equipment, electronics, and more. Whether it's maintaining tension in mechanical assemblies or providing rotational force, our torsion springs deliver optimal results across diverse applications.
Order Electrophoretic Torsion Springs from us
As a professional manufacturer of Torsion Springs, we are dedicated to delivering precision and performance to our clients. Our commitment to quality, customized solutions, and reliable performance sets us apart in the industry. Whether you require standard springs or need a custom solution for your project, our expertise and advanced manufacturing capabilities ensure that we can meet your requirements with excellence. Contact us today to discuss how our Electrophoretic Springs can elevate your applications to new heights.