Special-Shaped Torsion Springs: A Manufacturer's Expertise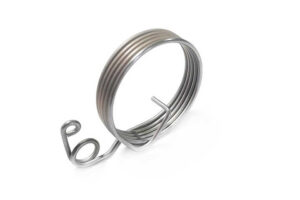 Torsion springs are essential mechanical components widely used in various industries. These springs store and release rotational energy when twisted or subjected to angular force. However, conventional torsion springs may not fit all applications. This is where special-shaped torsion springs come into play. This article will explore the expertise of a specialized manufacturer in producing these versatile components.
Understanding Special-Shaped Torsion Springs:
They are custom-designed to meet specific requirements that traditional torsion springs cannot fulfill. These springs are meticulously crafted to match complex geometries, making them ideal for unique applications. From non-standard angles to irregularly shaped bodies, it offer exceptional flexibility and functionality.
Expertise of a Specialized Manufacturer:
A manufacturer dedicated to special-shaped torsion spring possesses a wealth of expertise that ensures the production of high-quality components. Their specialized knowledge and advanced equipment allow them to design and manufacture springs that precisely match customer specifications.
Design and Engineering:
Designing a special-shaped torsion spring requires meticulous attention to detail. We works closely with the customer to understand their specific application requirements. Using computer-aided design (CAD) software, the engineering team creates a precise model of the desired spring, taking into consideration factors such as Wire diameter,load distribution, torque, and space constraints.
We can make the torsion spring at wire diameter 0.1mm to 12mm
Material Selection:
Choosing the correct material for a special-shaped torsion spring is crucial for its performance and longevity. The manufacturer's expertise ensures the selection of appropriate materials based on the application's physical and environmental conditions. Materials with excellent mechanical properties and resistance to corrosion are carefully chosen to optimize the spring's functionality and durability.
Spring Steel (72A,70A,65Mn,60Mn, etc)
High Carbon Steel
Low Carbon Steel
Nickel Plated Carbon Steel
Stainless Alloys(SS3016,SS304,etc)
Non-Ferrous Metals
Inconel
Titanium
and More
Manufacturing Process:
The manufacturing process of special-shaped torsion springs requires exceptional precision and skill. Advanced machinery and tools are utilized to produce springs with intricate shapes and torsion characteristics. The manufacturer's team of skilled technicians and engineers ensures that every step of the manufacturing process meets the highest standards of quality and accuracy.
Quality Control:
To guarantee the reliability and safety of special-shaped torsion springs, rigorous quality control measures are implemented. The manufacturer conducts comprehensive tests and inspections, including torque testing, load testing, and dimensional accuracy checks. This ensures that each spring meets or exceeds industry standards and customer expectations.
Applications:
Special-shaped torsion springs find applications in various industries, including automotive, aerospace, medical, and industrial sectors. These springs can be used in mechanisms such as hinges, clamps, levers, and many other devices that require rotational force.
Order Special-shaped Torsion Spring
This kind of springs provide an innovative solution for applications that demand custom-designed components. A specialized manufacturer's expertise in designing, engineering, and manufacturing these springs ensures optimal performance and functionality. With their ability to create springs with intricate shapes and precise torsion characteristics, these manufacturers play a crucial role in meeting diverse industry needs. Collaborating with such manufacturers allows businesses to obtain specialized springs that meet their unique requirements, contributing to the advancement of various industries.