Title: The Power and Durability of Heavy Duty Torsion Springs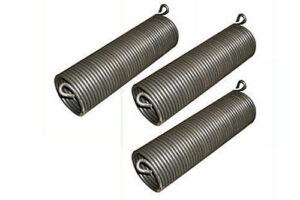 Introduction:
As we navigate through our daily lives, we often come across various machines and equipment that require springs to function effectively. From door hinges to garage doors, these mechanical springs are essential in ensuring the proper opening and closing of these various apparatus. Without these springs, these machines would not function properly or might even be rendered useless. One such spring that has proven to be highly effective and durable is the heavy duty torsion springs.
What are Heavy Duty Torsion Springs?
They are central force springs that are specifically designed to handle larger loads or heavier equipment. These springs are designed to withstand higher stresses compared to traditional springs, ensuring that they do not fail when in use. They are built with a more robust and rigorous design, making them durable and long-lasting, even with regular use.
Key features
There are several features that make heavy duty torsion springs stand out from other types of springs, including:
1. Made from high-quality materials: They are made from high-quality materials such as high carbon steel, stainless steel, and other durable metals. This makes them highly resistant to corrosion, rust, and wear and tear, ensuring their longevity and durability.
2. Increased load-bearing capacity: They have a higher load-bearing capacity compared to traditional springs. They can handle more significant loads without experiencing any deformation, breakage, or failure.
3. Robust design: They have a sturdy and robust design that enables them to withstand high levels of stress, tension, and compression. They are built to handle significant amounts of torque and rotational force.
Applications
Heavy duty torsion springs are widely used in various applications, including:
1. Industrial machinery: They are used in industrial machinery such as pumps, engines, and compressors to ensure a smooth and seamless operation.
2. Automotive industry: They are used in the automotive industry to provide support and absorb shock in various car components such as suspension systems, steering, and brakes.
3. Aerospace industry: They are used in the aerospace industry to provide support and stability in various aircraft components such as wings, landing gear, and control surfaces.
Custom Heavy Duty Springs
Product Name
 Heavy Duty Garage Door Torsion Springs 

Manufacturer

Material
High carbon steel  :  77B / 82B
Wire diameter
5 mm /5.5mm /5mm /6.5mm /7mm /7.5 mm–10mm
Inside diameter
50.8mm -152mm
Outer diameter
325mm – 3500 mm
Surface
Oiled Tempered  /  Black coated/Corrosion resistant
Usage
Rolling door / garage door /Shutter Door/ industrial /Furniture
Conclusion:
Such springs are an essential component in the machinery and equipment that make our daily lives easier. They are designed to handle significant loads and withstand significant stress, making them a reliable and durable option for any heavy-duty application. By choosing this spring, you can ensure the safety, functionality, and durability of your machinery and equipment.