Spiral Torsion Spring: The Unsung Hero of Mechanical Engineering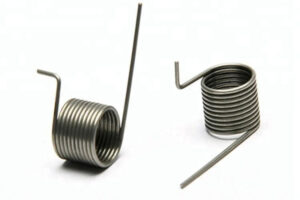 Spiral torsion spring may not be the most glamorous of components in the world of mechanical engineering, but they certainly play a vital role in countless applications. From simple door hinges to advanced medical devices, spiral torsion springs offer reliable and consistent support, ensuring smooth operation and longevity.
So what exactly is a spiral torsion spring? In its simplest form, a torsion spring is a twisted piece of metal that exerts rotational force when twisted. A spiral torsion spring takes this concept one step further by coiling the wire into a spiral shape. This design not only provides the necessary torsion force, but also allows the spring to work in a very compact space.
One of the most common applications of spiral torsion springs is in hinges. Think about the door to your house or the lid to your garbage can. These items rely on spiral torsion springs to provide the necessary force to keep them closed, while also allowing them to smoothly and easily move when opened.
But spiral torsion springs are not just limited to household items. They play a critical role in the automotive industry, where they are used to support everything from the clutch pedals to the seats. They are also essential in the medical field, where they are found in a wide range of devices, including surgical instruments, prosthetics, and hearing aids.
The effectiveness of spiral torsion springs lies in their ability to provide consistent and reliable force over a long period of time. Unlike other types of springs that can lose tension or become damaged over time, spiral torsion springs are designed to maintain their strength and shape even after extended use. This makes them ideal for applications where reliability is essential, such as in the medical and aerospace industries.
Another advantage of spiral torsion springs is their compact size. Because they are coiled into a spiral, they take up very little space and can be easily integrated into even the smallest devices. This makes them ideal for applications where space is at a premium, such as in the electronics industry.
In addition to their practical applications, spiral torsion springs are also used in a variety of artistic and decorative items. Jewelry designers, for example, often use spiral torsion springs in their designs to add a unique and eye-catching element. And because spiral torsion springs are available in a wide range of materials and finishes, they can be customized to suit any aesthetic.
Custom Torsion Springs
| | |
| --- | --- |
| OEM/ODM | YES |
| Material | Carbon steel(SWC),Alloy steel SEA9260/9254/6150/SUP9/SUP10/SUP12,51CrV4,stainless steel,Music wire/piano wire(SWP);beryllium copper etc. |
| Wire diameter or thickness | 0.2~85mm |
| Process | CNC Spring |
| Finish | Zinc,Chorme,Nickel, Silver,Gold, Tin,Powder coating,Oxide black or customzied |
| Application | Industrial/auto/Motorcycle/electronics/electric power/Toys/Sports goods/Machinery equipment etc. |
| Employees | 350-400 peoples, 50 technicians of them |
| Quality Certification | ISO/TS16949-2002,ISO9001-2000,ISO14000 |
| Payment term | T/T,L/C or other payments |
| Packing | Inner packing with plastic bags,and then carton boxes for outer packing,at last wooden or plastic pallets for request |
| Shipment | By sea/air/UPS/TNT/Fedex express etc. |
So next time you open a door or sit in your car, take a moment to appreciate the unsung hero that is the spiral torsion spring. Without them, many of the objects we take for granted every day would be much less reliable and efficient. From their compact size to their consistent performance, spiral torsion springs truly are a marvel of mechanical engineering.