High Tension Torsion Spring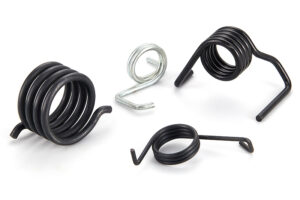 Tension Torsion Spring , you will understand this products are used for high tension.The end of the torsion spring is fixed to other components. When other components rotate around the center of the spring, the spring pulls them back to their original position to produce torque or rotational force.
The design principle of torsion spring is more complex among all spring categories, and the change of type is also quite lively, so the theory involved in the design is also the most cumbersome.
The springs are widely used in electronic switch, automatic water pump switch, air compressor, ice compressor, automobile motorcycle, diesel engine, oil pump, sewing machine and so on.
Custom High Tension Torsion Spring
Our strong production capacity, can fully meet customer order demand, the company's production and testing equipment, advanced technology, production workers are very skilled in product technology, is to produce products of the fundamental guarantee
Carbon steel(SWC),Alloy steel SEA9260/9254/6150/SUP9/SUP10/SUP12,51CrV4,

stainless steel

,Music wire/piano wire(SWP);beryllium

copper etc..

Wire diameter or thickness

0.1~9.0mm

Process

CNC Spring

High Tension Torsion Spring Surface processing

Zinc,Chorme,Nickel, Silver,Gold, Tin,Powder coating,Oxide black or customzied

Application

Industrial/auto/Motorcycle/electronics/electric power/Toys/Sports goods/Machinery equipment etc.

Company area

6000 square

Quality Certification

IATF 16949:2016

Payment method

T/T,L/C or other payments

Packing

Inner packing with plastic bags,and then carton boxes for outer packing,at last wooden or plastic pallets for request

Shipment

By sea/air/UPS/TNT/Fedex express etc.
Spring types we offer
We are aimed to provide all kinds of springs to make customer feel convenience to buy springs from us.Mainly, we offer following springs.
Request Quote for High Tension Torsion Spring, Please offer following information
1.Type of Material:
2.Wire Diameter:
3.Outside Diameter: and Inside Diameter:
4.Body Length: Number of Coils:
5.Leg Lengths:
6.Free angle in degrees:
7.Rate:
8.Wind Direction:
9.Finish:
10.Quantity:
11.Other information that is not required but helpful if known: