The Art of Electronics Torsion Springs: A Manufacturer's Perspective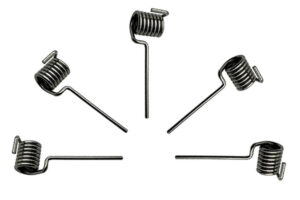 Torsion springs play a vital role in various industries, particularly in the realm of electronics. These meticulously designed components possess a unique ability to store and release rotational energy, enabling smooth operation in electronic devices. As a prominent manufacturer in this field, our company takes immense pride in producing high-quality electronics torsion springs that meet the stringent demands of modern technological applications.
Understanding Electronics Torsion Springs:
They are coiled mechanical devices primarily used to exert torque or rotational force when subjected to twisting. They are typically made from high-grade materials such as stainless steel or high-carbon steel, chosen to ensure durability, resilience, and resistance to corrosion. Precise engineering and manufacturing processes are employed to achieve consistent spring characteristics, ensuring optimal performance.
Applications and Benefits:
1. Electrical Contacts: Electronics torsion springs find significant usage in electrical contacts, which require controlled rotational force for proper connection and disconnection. These springs assist in maintaining secure electrical conductivity while enabling smooth movement, enhancing device longevity and reliability.
2. Microswitches and Push Buttons: In microswitches and push buttons, torsion springs enable quick actuation and ensure prompt response upon user interaction. The springs provide the necessary tension to enable proper functioning and reliable feedback, making them ideal for applications where accuracy and consistency are paramount.
3. Automotive Electronics: In the automotive industry, torsion springs are integral components that facilitate various functions, including airbag deployment, throttle control, and seatbelt retraction mechanisms. These springs ensure optimal performance, reliability, and safety, thereby reinforcing their critical role within this sector.
Quality Assurance and Manufacturing Excellence:
Our company, renowned for its commitment to excellence, employs state-of-the-art equipment combined with meticulous quality control measures to produce electronics torsion springs of the highest standard. We adhere to rigorous manufacturing standards, culminating in springs that exhibit precise torque characteristics, excellent fatigue resistance, and consistent performance over extended periods.
Customer-Centric Approach:
At our company, we understand the significance of customized solutions based on individual requirements. Our dedicated team works closely with clients to provide tailored electronics torsion springs that align perfectly with their specific applications. We prioritize effective communication, quick response times, and flexible production capabilities, ensuring customer satisfaction at every stage of the process.
Conclusion:
As the demand for electronics torsion springs continues to rise in today's fast-paced technological landscape, it is crucial to partner with a trusted manufacturer that delivers consistent quality, engineering expertise, and a customer-centric approach. Our company, with its extensive experience and unwavering commitment to excellence, stands poised to meet and exceed these expectations. We take great pride in being a reliable source for high-quality electronics springs, empowering diverse industries in achieving optimal performance and reliability in their applications.