Spiral Helical Torsion Spring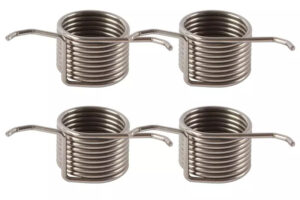 This Spiral Helical Torsion Spring is made for our oversea customer and it's used for industry equipment.The material is stainless steel 304.
We mainly produce compression springs, disc springs, wave springs, extension springs, torsion springs,retaining rings, valve springs, high temperature springs and other types.
Spring material are Inconel X-750, Inconel 600, Inconel 625, Inconel 718, Monel K500, Elgiloy UNS R30003, Hastelloy C-276, Nimonic 90, Titanium Grade 4, Alloy 20, No8020, CR5, 316, 304, 9260, 50CrV4, 55CrSiA, 1066 and so on.
Customized sizes Out Dia.size:2-500mm,Wire size:0.2-50mm
Custom Torsion Spring
Manufacture

China Custom Spring

1066/ 65/ 65MN
9260/ SUP6,SUP7/ 60SiCr7/ 60C2/ 60Si2Mn
6150/ SUP10/ 1.8159/ 50CrΦA/ 50CrVA301/ S30100/ SUS301/ X12CrNi17-07/ 1Cr17Ni7
304/ S30400/ SUS304/ X5CrNi18-10/ 0Cr18Ni9
316/ S31600/ SUS316/ X5CrNi17.12.2/ 0Cr17Ni12Mo2
631/ S17700/ SUS631/ 1.4568/ 17-7PHAlloys Inconel X-750/ N07750/ 2.4669/ GH4145
Alloys Inconel 718/ N07718/ 2.4668/ GH4169
Alloys Inconel 625/ N06625
Alloys Inconel 600/ N06600
Alloys Hastelloy C276/ N10276
Alloys Monel K500/ N05500
Alloys Elgiloy/ R30003
Alloys Nimonic 90
Alloys Titanium TC4

Spring type

Disc spring washers/ Compression springs/Wave springs

MOQ

None

Steel
Carbon steel

Galvanized, zinc/nickel/chrome plating

Stainless steel
Alloys

Shot blasting, Polishing

Package

Carton case, wood case

Delivery

Within 15-20 days after payment received

By international express by DHL, UPS, FedEx,TNT etc
By air, By sea

Payment terms

By T/T 50% prepaid, the rest before shipment.
Online shopping

Spring special requirement

Cycling life test
Cycling life test under high temperature
Load test under high temperature
How to get the quotation?
It is better you can send us your spring drawing or photo.
If you have none of them,please confirm your spring material and diameter within out diameter,wire diameter,free height,coils numbers,direction and end type or contact us directly.
Inspect equipment we have
Spring Detection: The inspection include the appearance of the spring, the size of the spring (material diameter, free height, outer diameter, total number of turns, tip clearance and thickness, pitch uniformity, pressure and height, Grinding surface, verticality, end face execution, straightness), spring characteristic detection, permanent deformation detection, spring hardness, metallographic structure (spring decarburization layer, grain size, non-metallic inclusions), spring spray Pill quality inspection, non-destructive testing of springs, fatigue life testing of springs
Package&Delivery:
Carton case,wood case outside.The parcel can delivery by Fedex,TNT,UPS,DHL ect.